Important questions to consider when it comes to offering services in other languages:
Does your organization have staff or volunteers that are directly from the community you are serving, know the community well, and speak the most commonly spoken language(s) in your community? 

How can your organization focus on hiring future staff who speak the language(s) that are present in your community and are willing to serve as translators?

Who within your team of volunteers speak the language(s) that are present in your community and are willing to serve as translators?
Why translate materials into other languages?
With so many different ethnicities represented throughout North America, it is crucial to be able to identify the different languages spoken throughout your community and provide services for families that may not be fluent in English. Many community members learn about service providers in their community by word of mouth and if your organization is not providing customer service, flyers, online materials, announcements, etc. in other commonly spoken languages in your community, then you may be missing a huge population of families that can be at risk of separating from their pets. Black and Latinx families are two times more likely to rent in the US than white families, and therefore, are more likely to be impacted by this nationwide eviction crisis. Having resources available in other languages can help you provide even more support for all members of your community. 
However, translating a service flyer or temporary foster agreement into another language is not as easy as using "Google Translate." Not all Latinx and Spanish-speaking communities speak the same exact Spanish language. For example, the Spanish spoken by Cuban-Americans in South Florida varies from the Spanish spoken by Mexican-Americans in Southern California! There are variations in the use of certain words as well as idiomatic expressions, so it's important to ensure that the translation of your materials clearly communicates the intended message to any Spanish-speaker that may be reading it.
How to Translate Materials into Other Languages
There are many different free translating websites available online. This article lists the best 7 alternatives to Google Translate. Depending on which one would work best for your organization, you can easily type in what you are trying to translate and it will provide you with a translation. However, these translations aren't always 100% accurate. So once you have used the internet to translate, have the translation reviewed by at least 2-3 different Spanish-speaking staff members, volunteers or community members from different Latinx backgrounds and lived-experiences (I.e. educational backgrounds and socio-economic statuses). You want to make sure the Spanish translation is accessible for Spanish-speaking community members of all educational backgrounds. By having others review the translation, this process can help verify that the message is clear to different Spanish speakers in your community.
Here are some examples of translated materials created by a few HASS Tier 1 Pilot Shelters:
If your website software does not provide an option for viewers to experience your website in another language, check out this step-by-step alternative.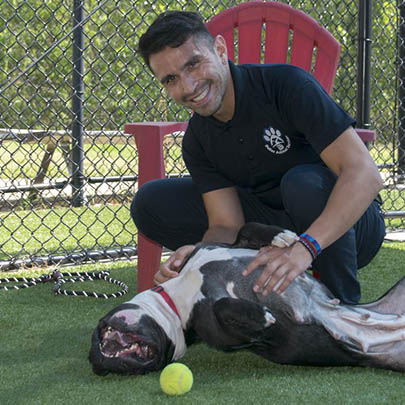 DAS Spanish Speaking Community Outreach
At Dallas Animal Services (DAS), Gabriel, their Marketing Outreach Assistant, speaks both English and Spanish and in his role he has been focusing on engaging with Spanish-speaking community members. One day, he met with a Spanish-speaking community member that felt frustrated about not being able to complete an online pet adoption application since they were only available in English. Gabriel assisted her in completing the application and in the end she was able to bring home her new companion animal! Overall, DAS has been able to increase their engagement with Spanish-speaking community members through one-on-one interactions like this one and more outreach in Spanish through social media, such as Facebook Live and TikTok videos, where folks can ask questions about their services and leave comments.  Dallas Animal Services is also working on solutions to make their application more accessible for Spanish speaking community members.