QR codes are everywhere these days—at restaurants, where you scan them instead of being handed a physical menu; bouncing around your TV screen during the Super Bowl (what was that ad even for?!); on the back of a business card, to direct you to someone's LinkedIn page or TikTok channel. And no wonder, since some 85 percent of Americans now carry smartphones.
More and more animal shelters and rescue groups are finding creative, effective ways to use those data-filled squares that you scan with your phone—and you can, too!
Before we get into those details, a little background. Such as, what is a QR code, and how can you make one for yourself?
A QR code, or quick response code, is—we're going to borrow someone else's language here—"a two-dimensional matrix barcode that can be read and scanned with compatible devices such as a smartphone camera or an app." To put it in more basic terms, the QR codes store data that, when scanned, will pop up on the user's phone—like a menu at a restaurant, or, say, an animal shelter's foster manual.
QR codes can be "static," meaning that once created they can't be altered, and if you want to make any changes—redirect to a different link; correct a typo; update an image—you'll need to create a new QR code. Other QR codes are "dynamic," which means you can keep the same code but update it as you like.
There are a whole lot of free QR code generators, as well as paid versions that allow for tracking and offer other features.
So how will your organization use a QR code today? How about like this:
Share videos of shelter dogs interacting with other dogs and volunteers.
Helping Hands Humane Society in Topeka, Kansas, recently started using QR codes in this way, at the suggestion of volunteers.
"They know that what the public see when they walk through the kennels isn't the same as what they see when they have dogs out in play yards," says communications coordinator Emi Greiss. "Our manager of adoptions started uploading volunteer videos to YouTube, creating QR codes for them, printing those, and laminating them to be taped to kennels or slid into kennel sleeves along with kennel cards."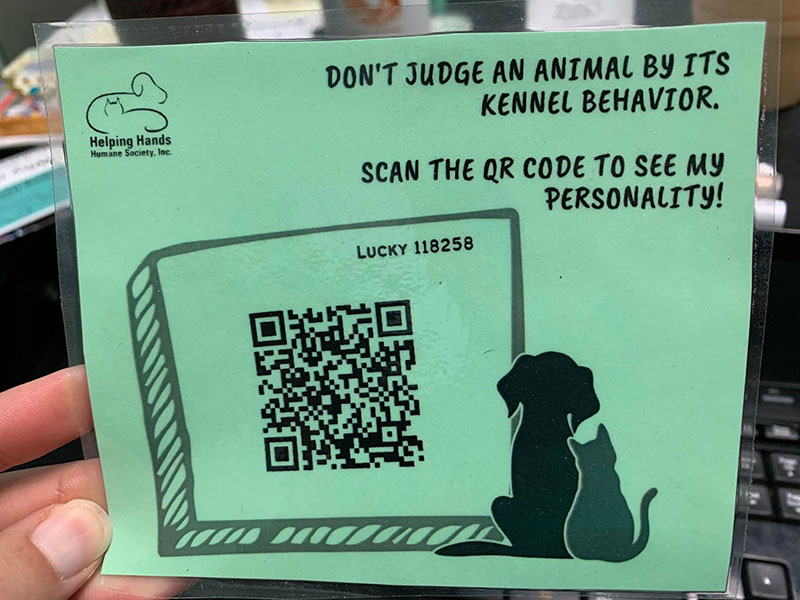 Distribute your adoption handbook. 
This one's from Helping Hands Humane Society, too—which recently created a QR code that links to adoption resources on the organization's website. Now, instead of printing out all the materials for new adopters, Helping Hands uses a QR code. Emi Greiss tells us it's saving the shelter lots of paper.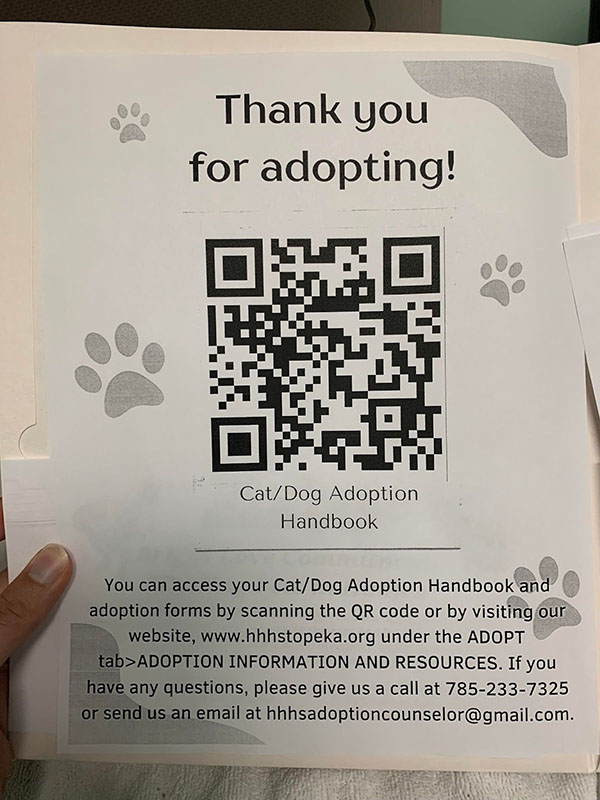 This would work well for foster manuals, too, and any other paper-heavy materials.
Sign up for vet appointments.
Detroit Animal Care and Control shares a lot of materials via QR codes. "For donations, events, adoptable listings, links to training, to sign up for vet appointments, for everything!" says DACC's Dana Eldred.
For the vet appointments, says Dana, the QR code takes people right to DACC's scheduling software (they use Acuity).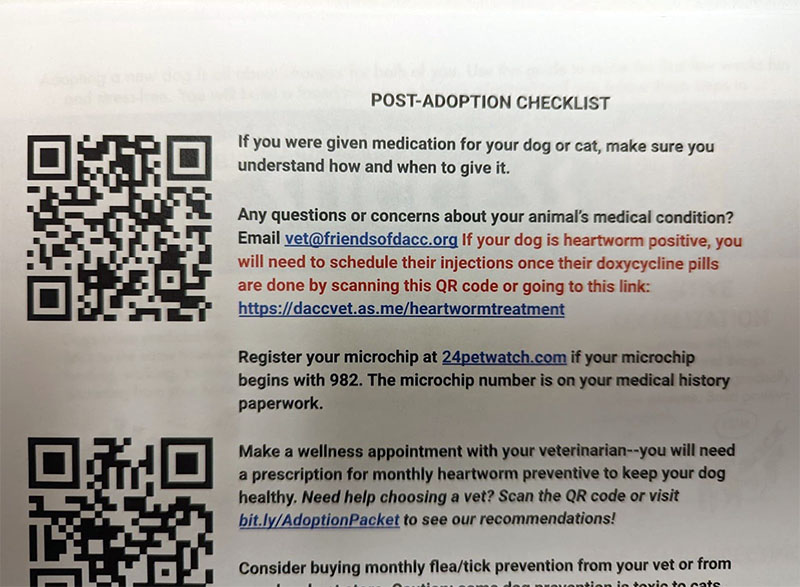 Show off your big dogs, all over your community. 
This QR code was part of a Chicago dog campaign, created by the Chicagoland Humane Coalition—a collaboration of animal welfare professionals to save animals and support families. It went up as an ad on the train, and as window clings.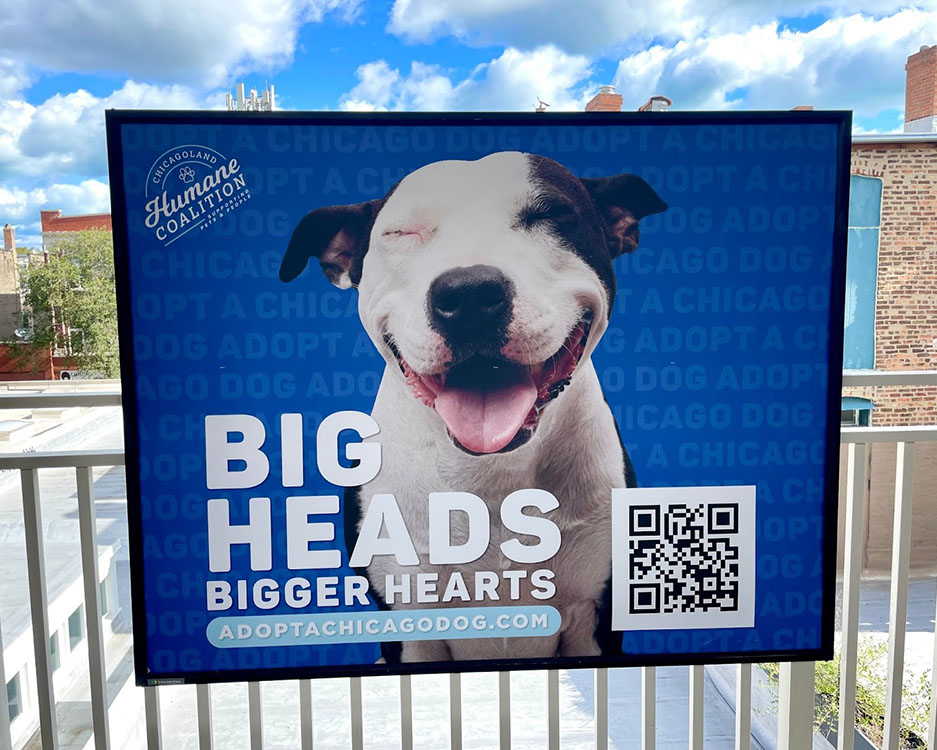 Heather Owen, founder of One Tail at a Time, and a member of the Chicagoland Humane Coalition, says the QR code takes users to the Chicagoland Humane Coalition website, which has a feed of big dogs from all the local shelters.
Collect donations.
This QR code takes you straight to Bailing Out Benji's donation page, and makes it very easy to contribute. Founder Mindi Callison, a tireless advocate to end puppy mills, says this one was used during the organization's annual gala.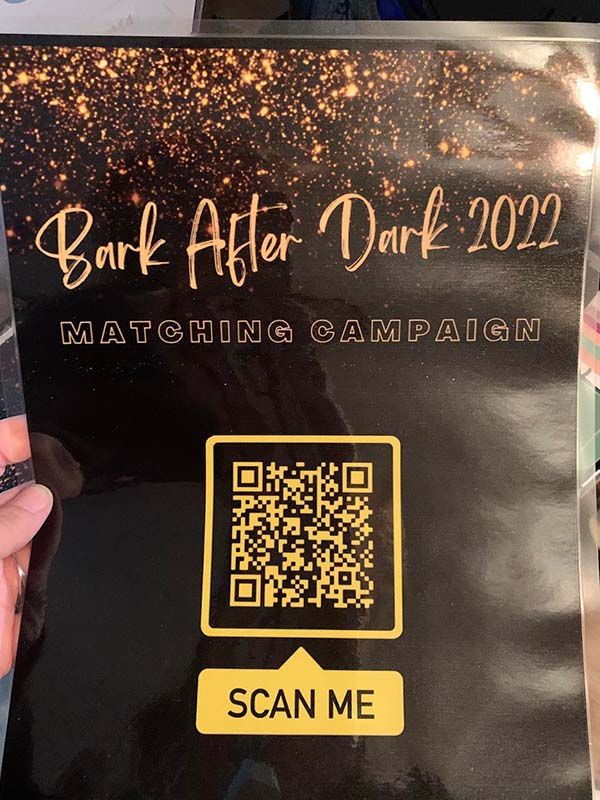 Sell tickets. 
And speaking of galas, Friends of Strays in St. Petersburg, Florida, created a QR code to sell tickets to its annual Wags & Whiskers event. The event sold out.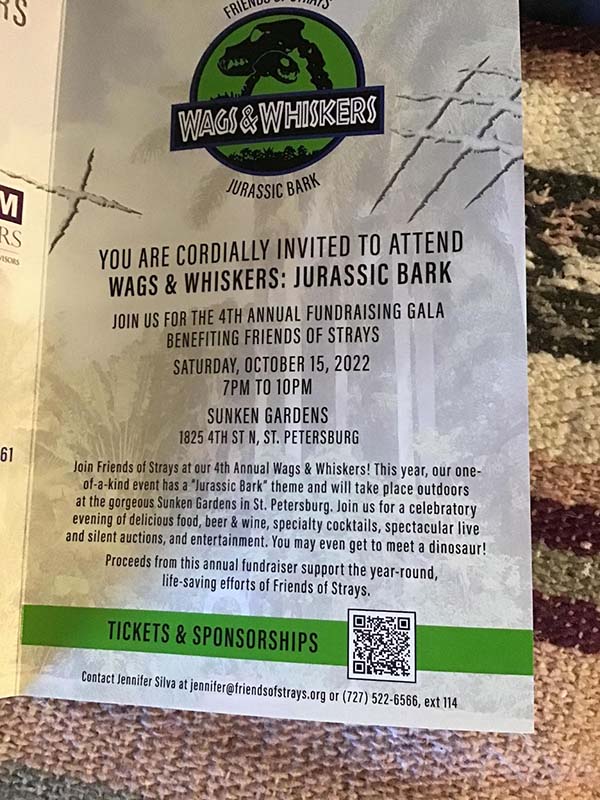 (Full disclosure: the author of this blog is on the FOS board, but purchased tickets to Jurassic Bark directly via the website, not using the code. Next year!)
Plan to use a van. 
Your transport van is literally a rolling billboard, and is a great place to include a QR code. The Texas-based organization Rescued Pets Movement has a little QR code there in the paw print, on the bottom left corner of the van. It takes you to the organization's website.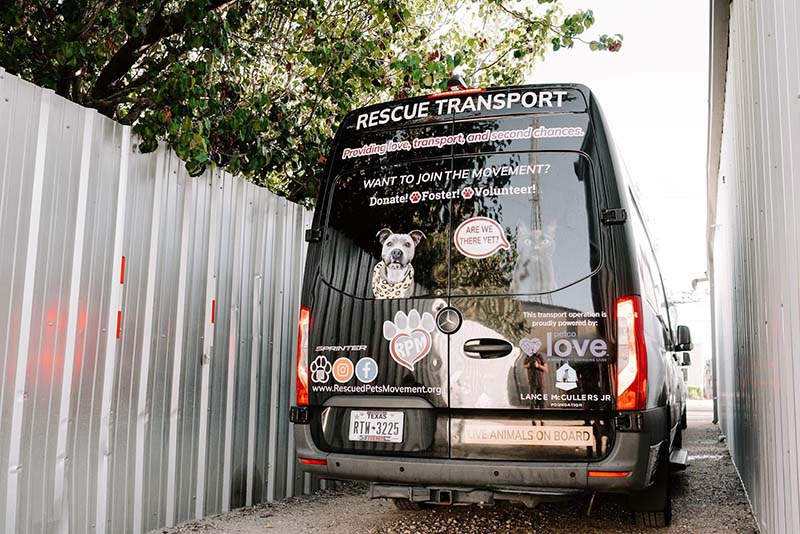 "I think people see a big van hurling down the road that looks to be filled with animals and just become curious about who we are and what we do," says RPM's Shelby Roquemore. 
Get your message out, and see what clicks.
The National Feline Research Center distributes postcards with cat-chy, attention-getting campaigns on them, along with QR codes inviting folks to click and visit the organization's website. Each postcard campaign gets its own QR code.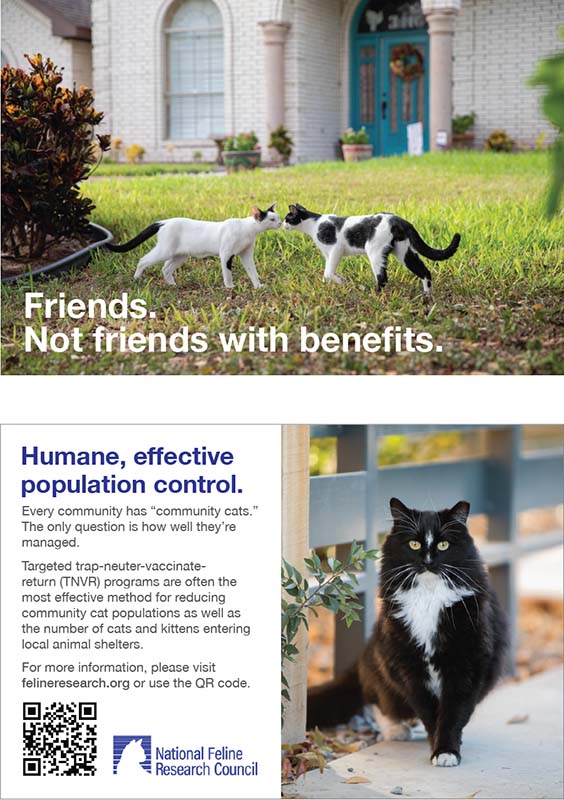 Cat advocate Peter Wolf, who's on the NFRC's board, says this way the organization can track which campaigns are literally the clickiest—which ones attract the most engagement.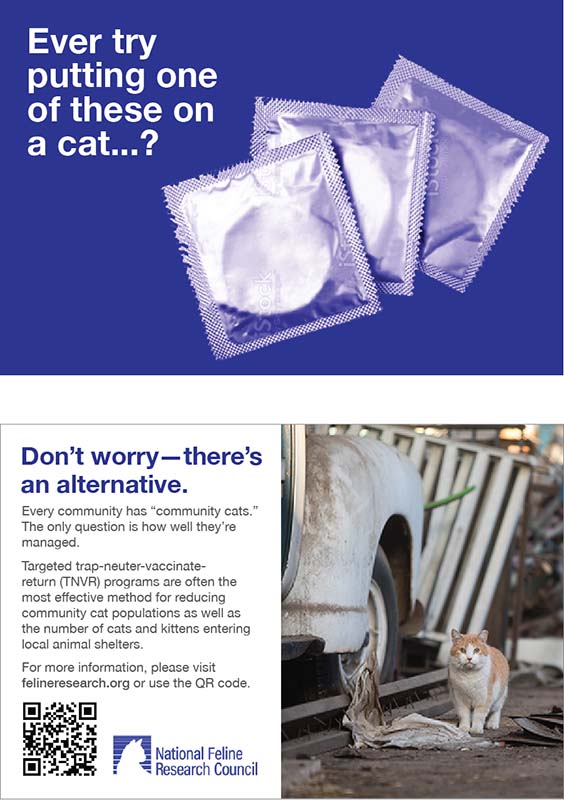 Get eyeballs on your foster pets. 
Foster homes are the purr-fect place for most pets to lounge on a couch until they are adopted into a family. But how can people who drop into your shelter learn about the pets who aren't in residence?
How about by using QR codes, alongside the pets' photos, to share adoption listings, videos, pictures, and lots of other info so potential adopters can get a sense of who the pets are and begin building the connection that leads to adoption.
Here's an example of a QR code-filled foster board at the Animal Welfare League of Arlington in Northern Virginia.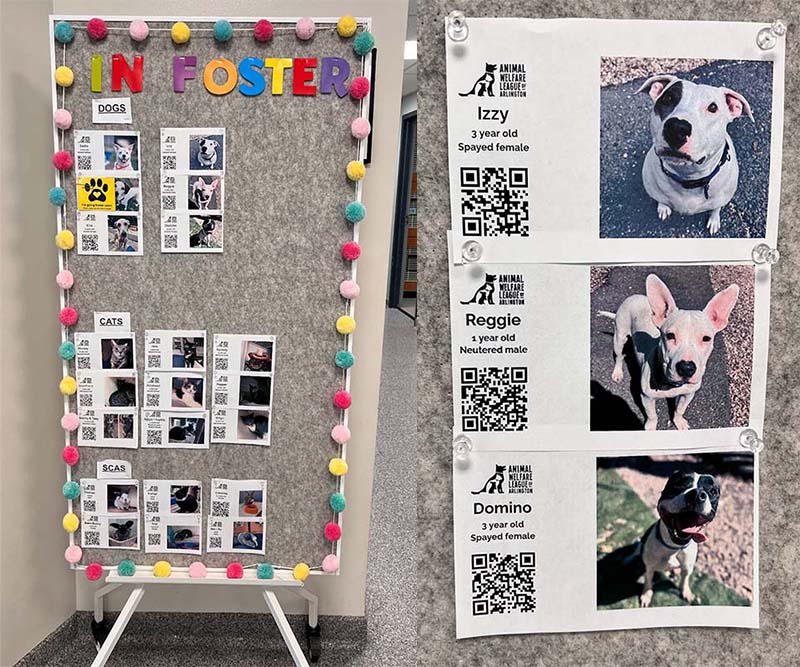 Tag your pets at events. 
These little tags are put on collars, harnesses, and crates during adoption events, so potential adopters can scan and learn more about the pets they're admiring.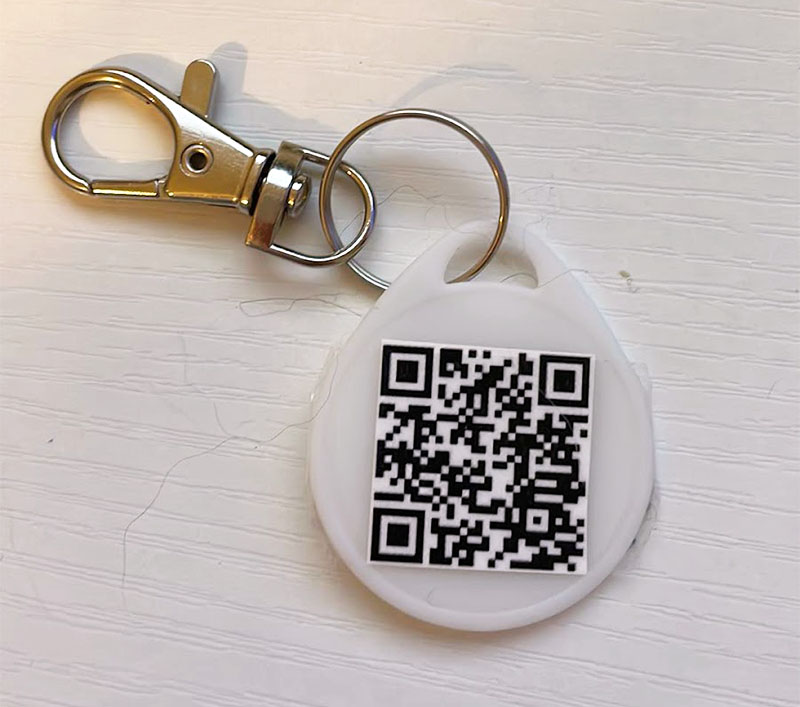 "Events get a little cray cray and sometimes repeating info gets exhausting, so it's just a way to make sure information is very accessible to interested potential adopters and/or fosters," says pet welfare marketing strategist Dana Reis, who owns Sploot Marketing. 
The codes can link to a social media post, an adoption listing, videos, or anything else. Create and print the QR codes, then attach them to the plastic discs, and you're ready to go!
Dana says she uses dynamic QR codes for these tags, so she can reuse them when the pets get adopted.
How is your organization using technology to save lives and keep families together? Do you have other ideas to share? Let us know!