The ASPCA LA Foster Program launched in 2017 in partnership with the County of Los Angeles Department of Animal Care and Control (LA DACC). The first step we took to creating our foster volunteer base was making kitten fostering accessible to anyone who wanted to help.
We also dedicated our efforts to supporting a successful foster experience by focusing on 4–8-week-old kittens who were still at risk in the shelter and yet were an easy group of kittens for new fosters to care for.
Within the first year of our program, foster caregivers organically grew their caregiving skill sets from hands-on experience and expressed a desire to continue challenging themselves to support younger and more vulnerable kittens. Since 2017, more than 1,200 foster caregivers in our program have provided care to more than 8,000 vulnerable felines, ranging from orphaned newborns to fifteen-year-old seniors.
The foundation of our program has been to break down barriers to fostering by offering people a customizable fostering experience.
We welcome foster caregivers with all levels of experience. Everyone must start from the beginning in their fostering journey, we only ask that they have the desire and willingness to help.
This approach has led to a more inclusive foster base because our program encourages and empowers anyone who wants to help cats get involved in our lifesaving efforts.
Here are our top tips for creating a customizable foster program and engaging a more inclusive foster base:
TIP 1: Remove Barriers to Foster Applications
Our foster application is brief and focuses on capturing the information we need to determine which felines would make a great match with that foster caregiver.
We collect the basic contact information and fostering preferences, rather than questions that can feel intrusive or judgmental.
This allows us to focus on making the connection between people who want to help and felines who need them. Other information, such as place of employment or prior pet ownership does not give us a better sense of the type of kitten or cat caregiver the foster could be.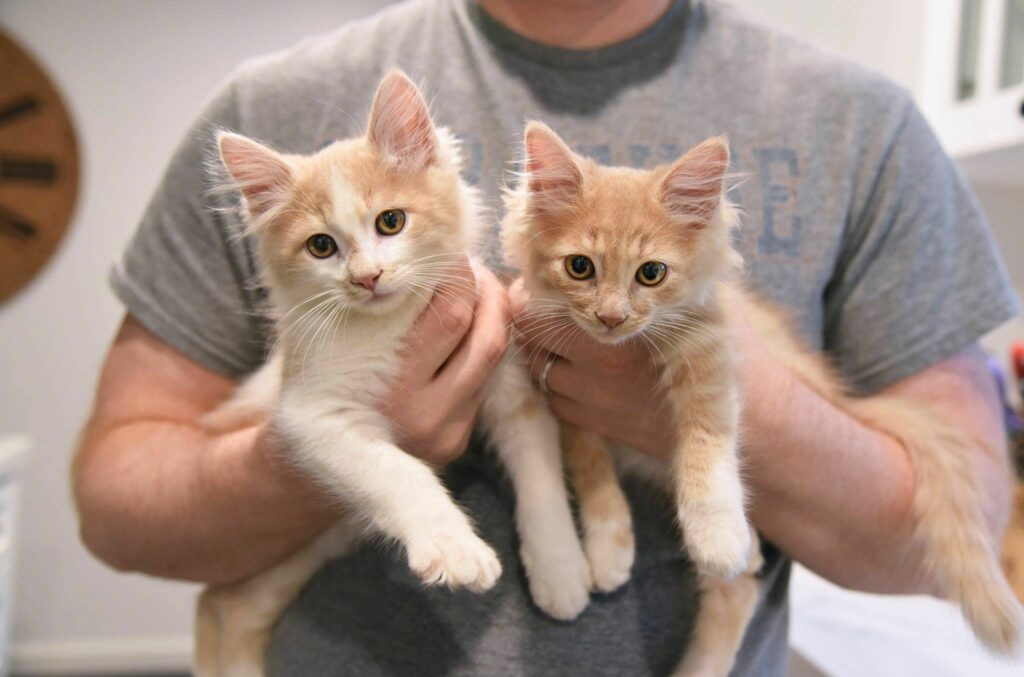 Tip 2: Remove Barriers to Foster Training
In 2021 we switched from holding live online information sessions to now offering on-demand online orientations. This minor change offers people the flexibility to complete the training at their individual pace and on their own schedule.
Tip 3: Allow for a Customized Foster Commitment
Our foster roster is hosted as an "on-deck" model where foster caregivers self-select the date they can start fostering, populations of felines they can foster, and how long they can foster for. 
Some people do not have the capacity to foster long-term, but they can be "emergency fosters" who can hang on to kittens for 24-72 hours while we secure a longer-term foster home. Rather than putting short-term fosters at the bottom of our foster roster, we have them labeled as our "emergency fosters," and are often the lifeline for vulnerable kittens who cannot spend the night in the shelter.
Some foster caregivers do not have the capacity to take in kittens needing extra care, but they quickly jump at the opportunity to foster healthy kittens or adult cats and specialize in finding adoptive homes for them.
Customizing foster commitments allows us to reach those who might not think fostering is right for them, because we are offering them a range of opportunities to act on their desire to help animals in need.
Tip 4: Encouraging a Growth Mindset
All of our continued education opportunities are offered online, including our 90-minute webinar about raising bottle babies and weaning kittens. We make it clear at all trainings that nobody is expected to be an expert when they take on more involved cases for the first time.
Instead, we encourage those who want to grow their caregiving skills to adopt a growth mindset and be open to learning hands-on with our support.
TIP 5: Meet Community Members Where They Are

In Los Angeles, we began encountering community members who were already helping kittens found in their neighborhood. These kitten caretakers were providing shelter, food, socialization, and even finding loving adopters for them long before we arrived.
We were able to supplement their efforts by providing preventative veterinary care, spay/neuter support for kittens and resources to trap, fix, return, and manage the kittens' mom and other nearby community cats.
Some other community members were very interested in helping but their lack of access to food, medical care, or transportation prevented them from taking kittens in. With our support, these animal lovers were more than willing to help.
Don't forget, you can also increase your impact in the community by providing foster resources in other languages.

Tip 6: Expand Opportunities to Get Involved
We have encountered many animal lovers wanting to help, but unable to fulfill the typical role of keeping kittens in their home. Limiting volunteer opportunities to just fostering prevents an able and willing group from helping.
Other volunteer opportunities in our foster program have included transporting kittens, sharing available ASPCA services in their community, and networking available adoptable kittens.
The benefits of creating a customizable foster program and eliminating barriers to fostering have resulted in the expansion of our program by increasing the populations of kittens we are able to help and the caregivers we are able to reach. There are many more opportunities to break down barriers to joining foster programs and we have made a commitment to continue learning and exploring this important work.
We hope these ideas inspire you to think of ways your organization can have a more inclusive foster program.
Don't forget to check out this communications toolkit, created by HASS and HeARTs Speak, to help you talk to your community and the media about cats and cat programming! You'll also want to take a look at the fostering communications kit.
To learn more about the ASPCA's kitten foster program in Los Angeles, check out this Q&A on ASPCAPro: https://www.aspcapro.org/feline-fostering-qa-aspca-los-angeles-foster-program
Debra Olmedo, RVT, is a Foster & Community Outreach Manager (Los Angeles) at the American Society for the Prevention of Cruelty to Animals. She received a bachelor's degree in Anthropology from California State University, Los Angeles, in 2013 and has been a Registered Veterinary Technician since 2009. In her current role, Debra is building a community foster program which focuses on creating sustainable solutions for found kittens and providing Trap-Neuter-Return-Monitor resources for community cats.
Nadia Oseguera is the Sr. Manager of Foster Care at the American Society for the Prevention of Cruelty to Animals. She received a bachelor's degree in Psychology at the University of California, Los Angeles, and has been with the ASPCA LA Foster Program since 2017. Her current areas of focus are program development, foster recruitment, creating continued training opportunities for foster caregivers, and supporting felines with behavioral challenges.