Have foster caregivers made a big difference in your organization? Yes of course they have!
During the pandemic, we've discovered that foster networks are larger and more enthusiastic than ever before.
To retain this incredible resource, how do we make it easy and rewarding to be a foster?
And how do we say thank you to the incredible fosters who are essential to saving animals' lives?
Make the Work Easy
For required appointments, make scheduling as easy as possible. Learn from your favorite online booking experience (dinner reservations, food delivery, haircuts, etc.) and take what works to implement in your foster appointment booking system.
Make sure you have appointments that work for a range of work and life considerations!
But who wants to sit around in waiting rooms, especially these days? There are many services that could be provided at a foster parent's home.
Can you take routine medical care to a foster instead of having them come to you? Can shelter staff set up scheduled deliveries of food and supplies to foster parents?
Could potential adopters visit the animal at a foster's house or a nearby park to make the process more convenient for the foster parent?
Shelter staff can further assist with marketing the pet and coordinating adoption logistics. 
Provide Resources and Support
Often, experienced fosters can be an incredible resource for newer foster parents. Is there an online forum where they can connect? A good foster network can support itself and solve the easy questions, leaving shelter staff available for the more difficult challenges.
You can also connect foster parents to volunteers for help with marketing their animals.
You can help connect foster parents who can support each other, by, for example, caring for another foster's pet while they are traveling or busy with work.
It's worth exploring what additional resources the shelter can provide such as daycare or boarding for animals in foster care. 
Show Appreciation
Many animals are treat motivated, but if we're honest, aren't humans as well? We can't stress enough how important it is to make sure your fosters know they are valued and appreciated. You can do that in any number of ways, like:
Send a card or some swag. Take a minute to send a hand-written note to a foster who is doing an amazing job, or send them a t-shirt or tote bag. It could be just the thing they need to say yes to taking home that next foster pet! 
Celebrate together. A pet being adopted out of foster home is an obvious reason to celebrate. Smaller victories can be celebrated too, like a successful playgroup or meeting.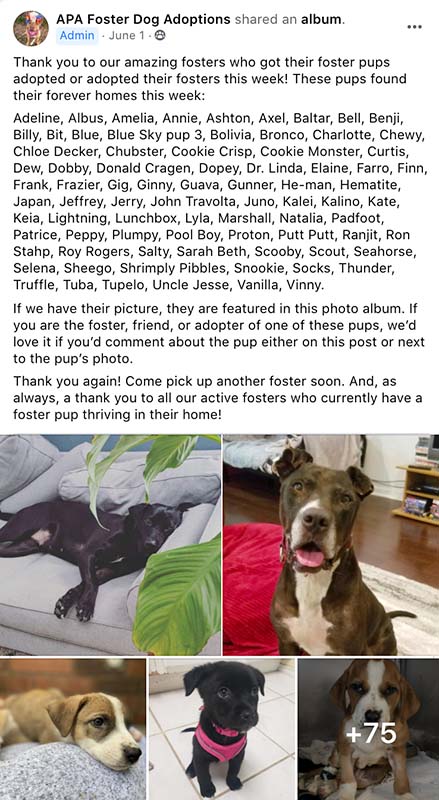 Award your fosters. Don't forget about your fosters when you plan your volunteer appreciation awards. Foster caregivers may not sign in and track their hours of service every day, but they provide love, care, and one-on-one attention to every pet they bring into their home. Giving them awards is a wonderful way to recognize their incredibly important contributions.
Host gatherings. You can host a collective pack walk, have an outdoor picnic, meet at a winery, meet online, or get together for Saturday morning coffee. Fosters don't get the community benefit of volunteering, so it's your job to help create that community, and trust us, your fosters will appreciate it!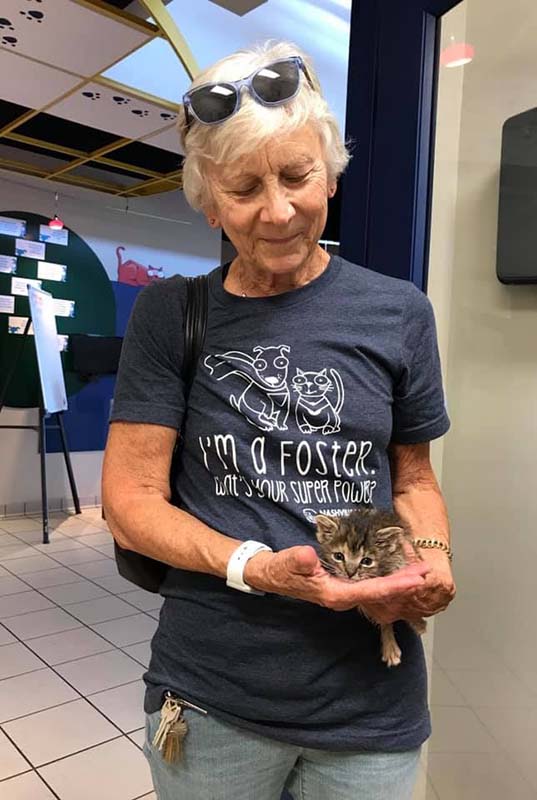 Your fosters are essential. These are just a few ways of letting them know how appreciated they are—and making it as easy as possible for them to keep being the lifesaving rockstars they are.
Featured Image Credit: Gina Montanarelli