It's kitten season. There's a hurricane coming. You've just taken in 200 dogs seized from a hoarding situation.
Families in your community are being evicted, and that means pets are losing their homes, too.
There are all kinds of reasons you're facing a space crisis—and many factors affecting the people and pets in your community, from a looming eviction crisis to natural disasters to health and financial emergencies.
What's universal is having to get word out to the public, NOW, that you need people to adopt, foster, and hold onto lost cats and dogs instead of bringing them to the shelter.
Here we've got five great media pitches, news releases, and even a couple of social media posts for you to read, and copy, so you can get the media and public engaged—and get your pets out of the shelter and into homes, when you (and they) need it the most.
1. When a storm (or other natural disaster) is coming, and you need pets out
Lost Dog and Cat Rescue Foundation in Northern Virginia put out this press release, in advance of Tropical Storm Barry in 2019.
The first paragraph gave folks all they needed to know about the urgency of the plea and how to help:

You can use this format whenever there's a disaster you have time to plan for.
2. Going live, getting specific
When the Charlottesville-Albemarle SPCA in Charlottesville, VA, drove to North Carolina to take pets from an overcrowded shelter, they went on Facebook Live to introduce people to the cats and dogs—and the conditions they were coming from. In the accompanying post, the shelter got specific about what they needed from the public.
3. When your shelter faces a seasonal space crisis
Facing a summer space crisis, Pima Animal Care Center in Tucson put out this press release, letting the public know they urgently need help getting animals into homes—and announcing 10 different ways to make that happen.
Note, too, that even though summer is predictably busy, PACC does not make this sound same-old. They're specific, and in so doing they make this personal: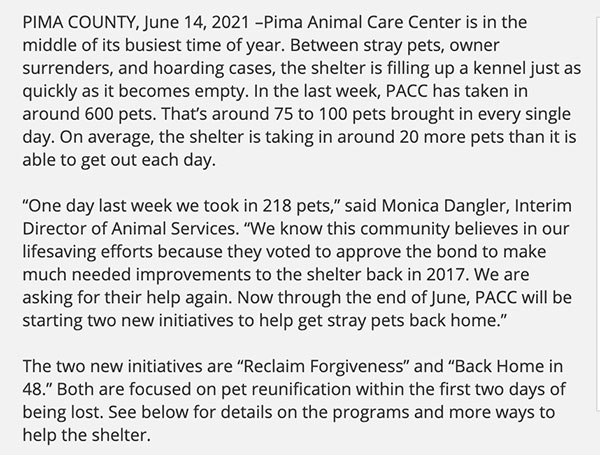 Borrow this format for your seasonal needs!
4. Emergency fosters needed, for whatever reason
When LifeLine Animal Shelter in Atlanta was full and getting fuller, they put out a press release that did not mince words about needing emergency fosters.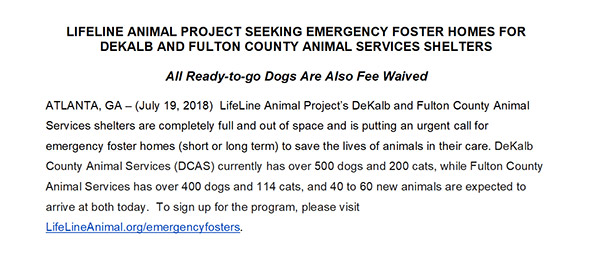 Note that right there in the first paragraph, is a link to where to sign up.
You can adjust this language if there is a particular population of animals who need fosters, like kittens.
5. Relationships, not press releases, to get media coverage
Press releases are an important tool. Even more important is to build relationships with reporters in your community.
Relationships are always key to getting media coverage. When you need to get word out about an emergency, that goes double.
"It's more about contacting reporters individually and pitching to them and pleading to them as animal lovers (usually contacting the reporters who are animal lovers first)," says LifeLine's Heather Friedman.
Friedman adds that LifeLine's PR person will offer reporters an exclusive if that's what it takes for them to do a story. And "If she doesn't get a bite, she contacts the producers directly and conveys the urgency."
Examples of effective messages to reporters:
We've had ____ number of pets come in over the past month/week/few days, and our shelters are full. To encourage adoptions and save lives, we are offering fee-waived adoptions on all pets from ___ to ____.
Will you please help us get the word out by sharing this news with your audience/readers?
During the first three months of the pandemic, ____ pets got adopted. However, over the past three months, ______ pets have been adopted.
Thank you for helping us save lives.
Blogs and Resources to Communicate Your Emergency Pleas
Communicating urgency without negativity in emergency fostering, on the always-helpful Maddie's Chew On This blog.
Crisis Communications During COVID-19: You've Got This!, from HeARTs Speak—while we aren't in the COVID crisis anymore, this interview with Michelle Dosson, bureau manager for the Norfolk Animal Care and Adoption Center in Norfolk, VA, is still chock full of useful tips about communicating during any crisis.
And here is a customizable press release to encourage people with secure housing to step up for their neighbors, and provide safe, temporary or permanent homes for pets who have been displaced by their families' evictions. Any shelter can use this press release to share with your local media.