I think a lot about the way I am perceived, or the way I'll be described when I leave this world. Sometimes I'm really disappointed in myself but other times, I know I got it right.
Maya Angelou said, "I've learned that people will forget what you said, people will forget what you did, but people will never forget how you made them feel."
How do you want to be described by the world? If you could choose three words to describe yourself, and how you want to be remembered, what would those words be? I am…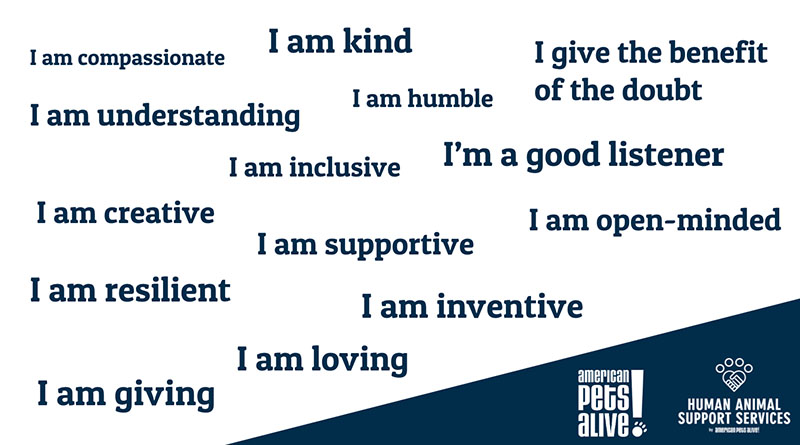 Compassionate? Understanding? Supportive? Kind? It might be challenging to come up with just three words—but using this exercise, those three words can become a quick mantra you repeat to yourself in daily situations. You can question your decisions and actions against them.
I keep three words taped to my desk in hopes it reminds me how to behave how I want to be perceived.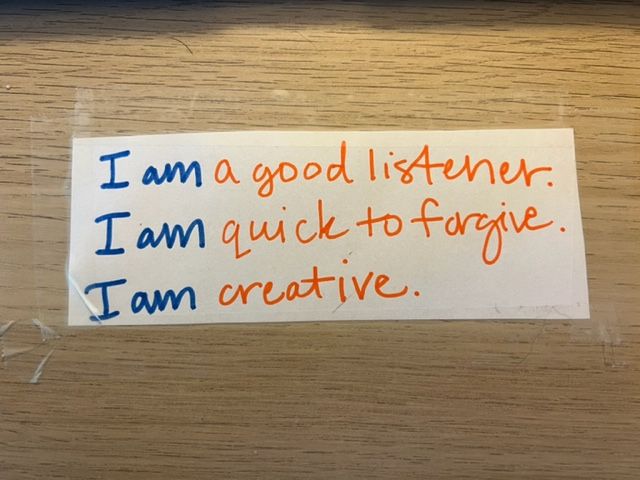 It doesn't always work but I look at those words more often than not and I know many conversations could have gone very differently if I wasn't reminded to be a good listener, to be quick to forgive, and to be creative.
The three word exercise can be incredibly valuable for your work team and organization, too! It's said you get more flies with honey than you do with vinegar. You want community support, and the public helping you out when you need it. You want people turning to your organization when they need support, and you want them coming to you first when they want to adopt a pet. You want people feeling warm and welcome when they come into your shelter.
Bringing your team together to come up with three words that describe how you want your organization to be seen in the community and how you want to interact with each other will positively affect everything you do. Then you'll watch the community support and positive interactions roll in!
Have everyone work together to come up with three words they want your organization to be known for by your community. A fun way to do this is to gather your team and have them brainstorm the words they want to use.
Narrow down the words to 6-8 and write them on individual pieces of paper taped to a table or the walls. Give each person three dot stickers and let them vote on their favorite three words.
Choose the three words with the most votes.
Then put posters up all over your building as a reminder of the words: "We are compassionate. We are supportive. We are kind."
Encourage your team to write these words down and stick them to their computers and desks, and even make them their phone background. No matter the situation—when your team is interacting with colleagues or members of your community, if someone is bringing in a lost pet, you're writing an adoption bio for a dog or cat, your animal services officers are working in the field, you're de-escalating a situation with an angry customer, just for some examples—they can use the three words to guide their behavior, words, and decisions. Am I being compassionate? Am I non-judgmental? Am I helpful?
Whatever those words are for your organization, let them guide how you and your team behave, how you communicate, and how you interact with each other, with the public, and with the animals in your care. These three words can filter into every interaction, interview, social post, comment response, and more.
This exercise will build a stronger staff and volunteer culture, too. Guiding and controlling your reputation starts internally. When we question our decisions and behaviors against the way we want to be seen, we break down judgmental barriers we might not have noticed before.
Posing these three words against how you write a dog adoption biography, handle an owner surrender situation, or process a reclaim for someone who can't afford the fees will help you realize how our actions and interactions are in or out of sync with how we want to be and how we want to be perceived.
Simply seeing our decisions through a new lens can change the outcome greatly for a pet or pet parent.
What are the exercises you do to help you break down judgments and barriers? We want your ideas! Who knows you might end up highlighted on our blog or on our social channels. Email us at marketing@americanpetsalive.org.