70% of lost dogs are found less than a mile from their homes. 42% are less than 400 feet!
More dogs get lost around July 4th than any other time of year. The vast majority will be picked up less than a mile from their homes.
Now we know how to get them back to their families: by keeping lost dogs in the neighborhood where they're found, instead of bringing them to an animal shelter.
Register your pet on Petco Love Lost. Petco Love Lost uses facial recognition technology to match photos of lost pets on other websites and find your furry friend. One photo can protect your pet if they go missing.
If people hold onto dogs they find for at least 48 hours, this gives families a much better chance to find their missing pets than if the dogs are impounded at a shelter.
Often, animal shelters will offer food, supplies, and other support to those who can temporarily house lost pets.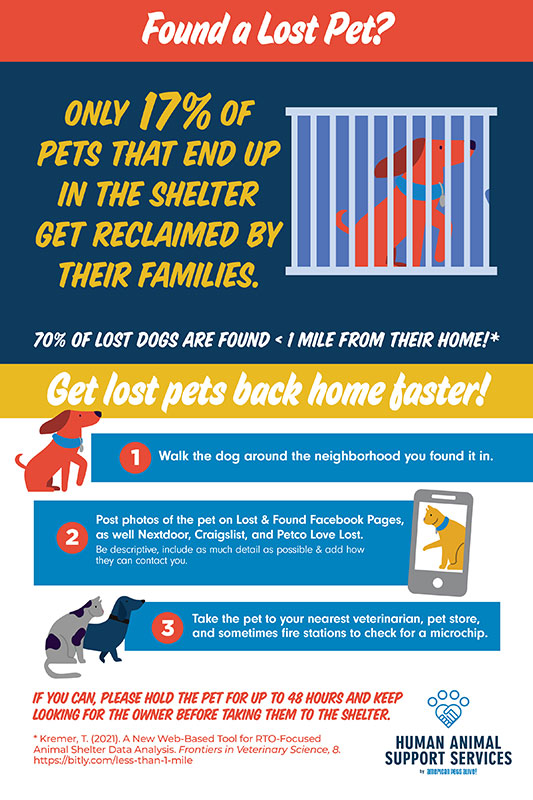 "In most cases, lost dogs simply aren't going very far from home. We all want the same thing: for them to be reunited with their families," says Kristen Hassen, director of the American Pets Alive! Human Animal Support Services project.
"That's why we are asking anyone who finds a lost pet this holiday season to keep that pet for at least 48 hours. Doing so will help prevent animal shelters from becoming overwhelmed with lost pets, and will help make sure that families searching for their dogs are able to find them."
A brand new study published in Frontiers in Veterinary Science finds that a remarkable 70% of lost dogs are found a mile or less from their homes.
Forty-two percent are less than 400 feet! That's not even one whole block, in most American cities.
This particular study used data coming out of Dallas, Texas. Anecdotal data from other cities tells us this is true elsewhere as well.
So what should you do if you find a lost dog?
File a found report, and go to any vet to get the dog scanned for a microchip. Contact the owner if the dog has a registered chip, or is wearing identification on their collar.
Walk the dog around the neighborhood so their family can see them if they're out looking. Knock on doors near where they were found and ask if they look familiar.
Hold the dog for at least 48 hours to give the owner a chance to locate them. Many animal shelters will offer dog-finders food and other supplies during this foster period.
Post the dog's picture and where they were found to Nextdoor, Facebook, Craigslist, Petco Love Lost, and other neighborhood social media platforms.
Put up found dog signs in the immediate area where you found the dog.
Communicate with your local shelter about how else you can help. For example, if it takes longer than two days for the dog's owner to be located, you may be able to foster the dog longer term.
American Pets Alive!'s Human Animal Support Services project is a national, collaborative effort of more than 400 animal shelters and 1,000 animal welfare professionals who are working together to keep pets with their families and reimagine animal services to better support their communities.