Kathryn Lally didn't start putting her foster pups in pajamas just for the pictures.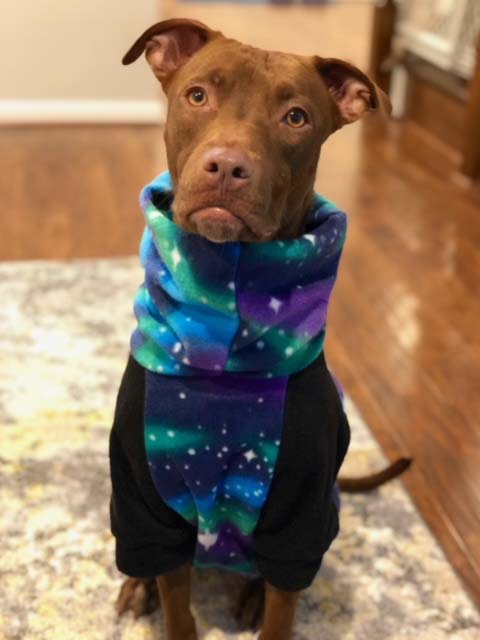 At first, the sweaters and jammie sets were for a more practical purpose.
Kathryn lives in Baltimore, which gets cold in the winter. Many of the pups Kathryn was fostering from BARCS, Baltimore's open-admission shelter, came into the shelter "underweight and with thin or missing fur."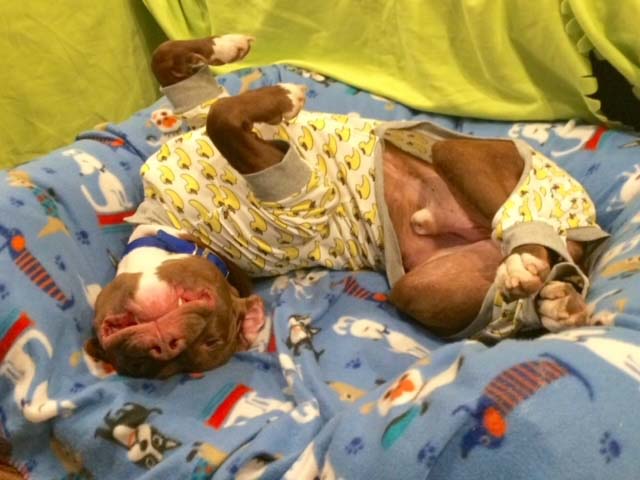 But Kathryn quickly noticed another benefit as well. People out on the street, who weren't always so friendly when she walked a—her words—"naked" foster pup, suddenly couldn't stay away.
This meant the PJ-ed dogs got important positive social interactions, and also met some new potential adopters.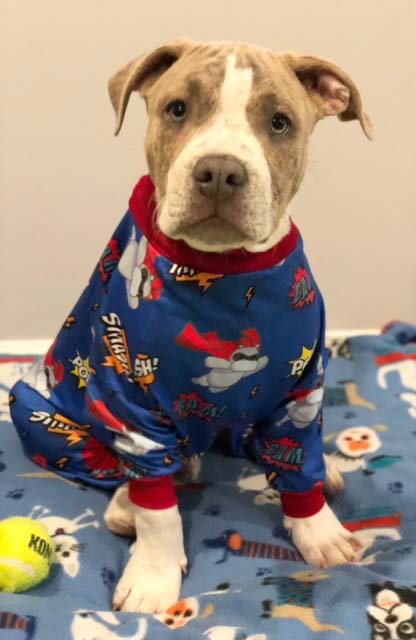 "So many people would stop and smile, or even approach me and my foster pup to say 'Hi' while they were dressed up in an outfit," Kathryn says.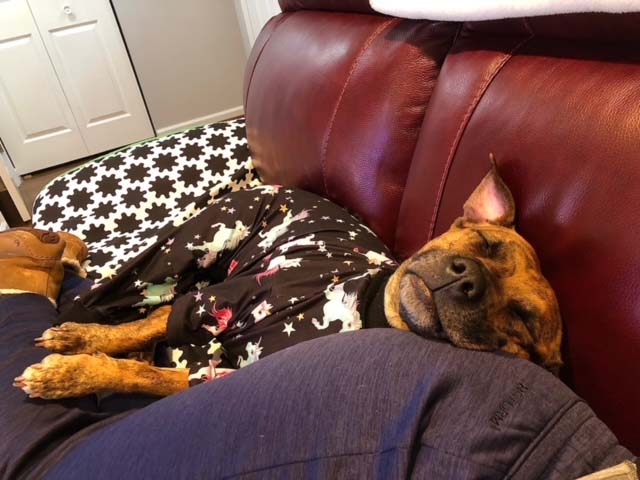 Soon BARCS realized that people online would go wild for pictures of doggies in PJs, too.
They were, to put it bluntly, barketing—er, marketing—gold.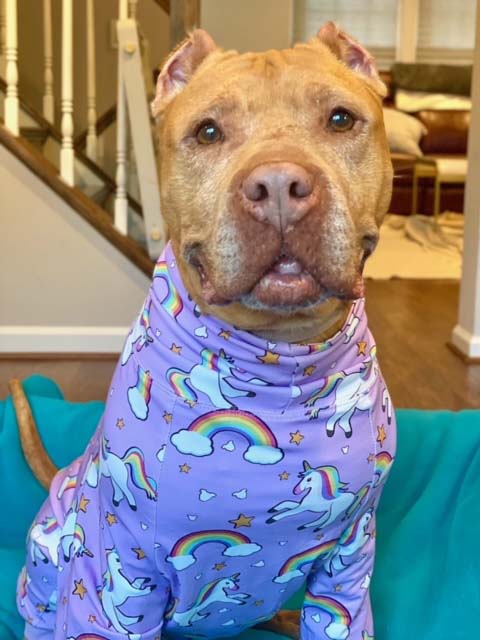 "Plus, they grab attention! These photos are always our top pick when we are showcasing a dog for adoption or trying to raise money for their care."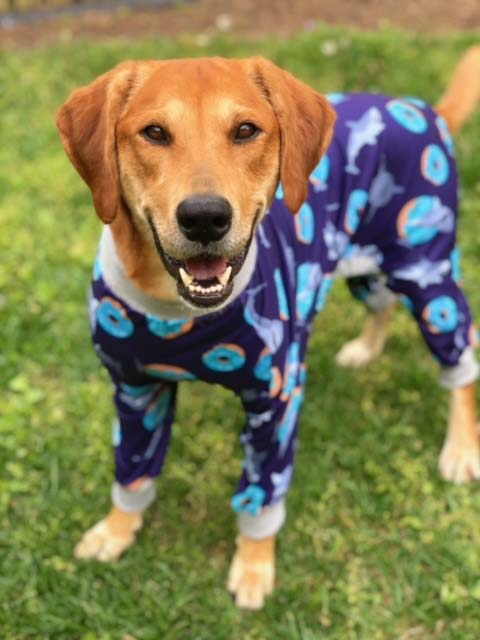 Kathryn has been fostering for BARCS since 2015. She generally hosts 1-2 dogs a month. There's been over 80 fosters so far.
Kathryn's specialty is 2-7 night sleepovers with long-stay dogs, fearful dogs, and dogs who haven't learned basic manners. During these sleepovers, Kathryn helps the dogs decompress, relax, and learn about living in a home.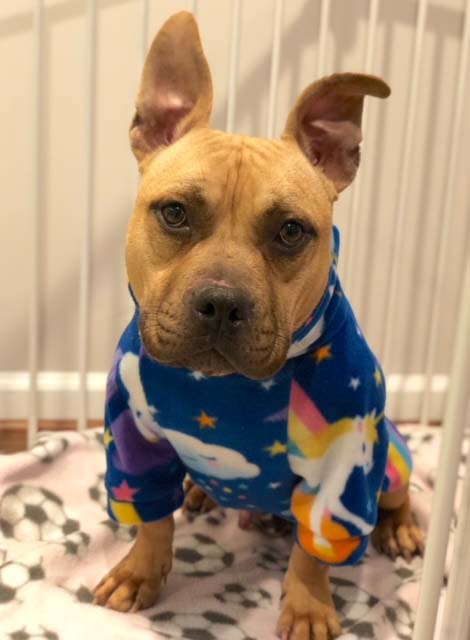 The PJs are just part of the process—and only for the dogs who seem ready, emotionally and physically. Kathryn's goal is to make every dog in her care be comfortable; she even turns up the thermostat a little higher on chilly nights, when she has a foster pup. 
A dog with achy joints wouldn't be a good PJ candidate, for example. Shy dogs, too, may not have the trust or confidence to enjoy being maneuvered into a pajama set, at least not right away.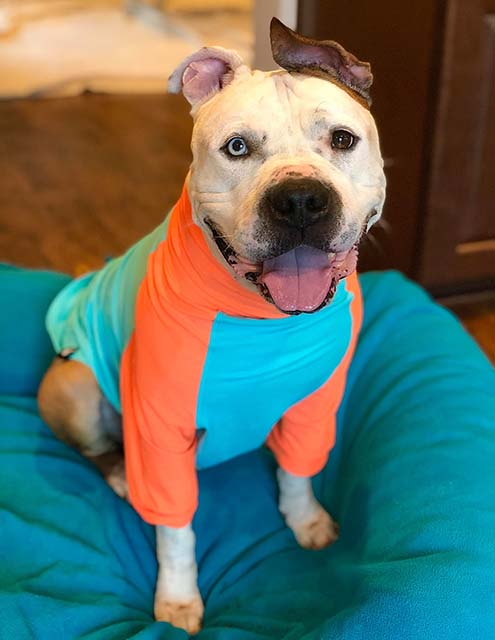 "I usually do not break out PJs on the very first night of bringing home a new dog," Kathryn says. 
"However, if a dog quickly settles in and demonstrates to me that they are tolerant of basic life activities like allowing me to put on or take off a collar, give a bath, or use baby wipes to help clean them up, and approaches me to solicit physical attention, then there is a good chance we will try putting on an outfit at some point during the dog's multi-day sleepover stay."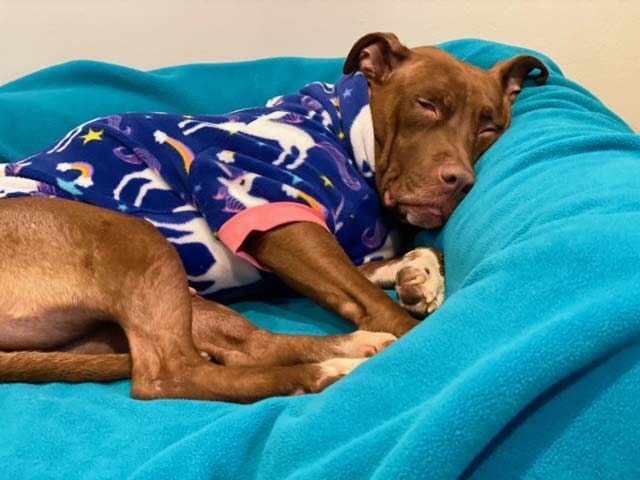 Kathryn takes very detailed notes about her overnight guests for BARCS to use in marketing materials, along with the photos.

"At a shelter, you might know that a dog loves blankets, but at the sleepover, we learn that they carry them around in their mouths like baby blankies—the latter paints a picture that connects adopters in a deeper way," Bailey says.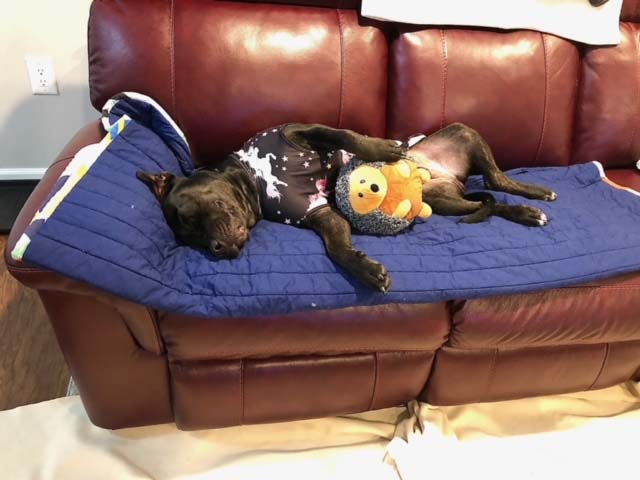 At this point you may be wondering: Hey wait a minute, how many dog pajama sets does Kathryn own, anyway?
She declines to give a specific number—but the photo below offers some clue. 
All those outfits on all those shelter dogs, helping usher them into hearts, and homes.
"You connect the expression on their face to how they are wearing the pajamas: some are proud, others look cozy, almost all of them look more calm and safe," Bailey says, helping potential adopters envision "what life in their home can be like with the dog."
As Kathryn puts it, "It is simply magical."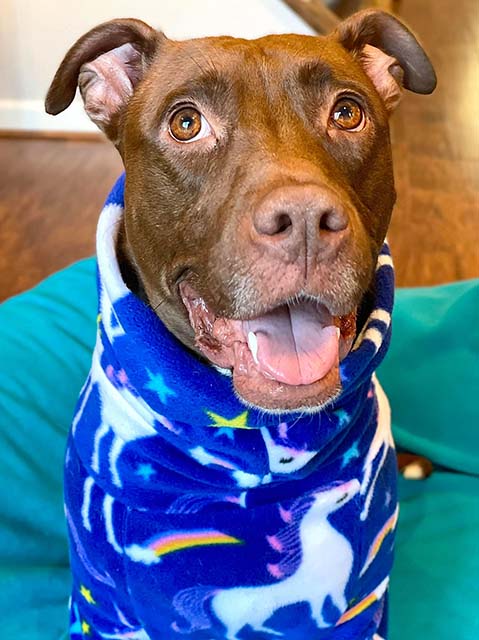 What tips do we have for other shelters that want to steal this idea?
First: Be sure to build out your short term/sleepover fostering program! Letting fosters take pets home for a night or a week will get more folks involved with the program, and more pets into homes.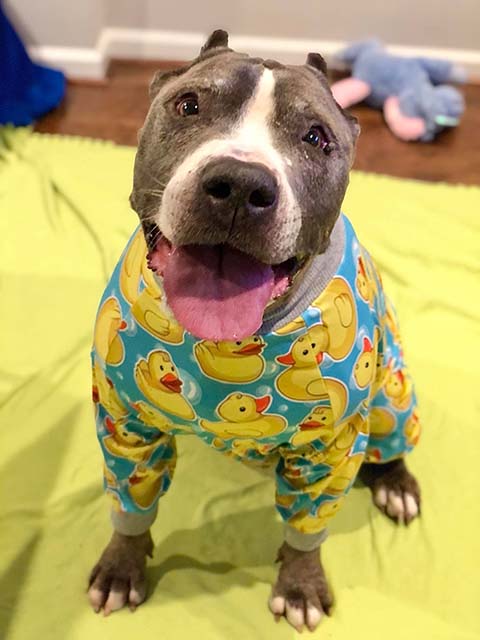 Second: Have your fosters take detailed notes about the pets in their care. High-level observations like that a dog is house trained, or knows how to sit for treats—and also more personal and up-close findings, like if the dog has a favorite purple stuffed elephant they carry around all the time and take naps with (especially if the stuffed elephant will get adopted along with the dog!).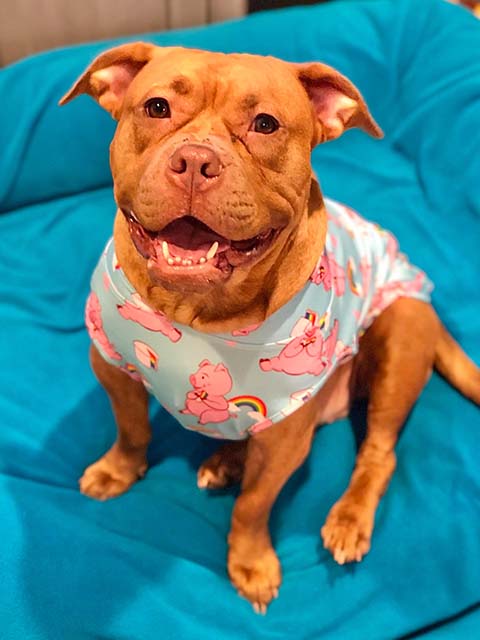 These details help potential adopters make a personal connection with the pet, and envision their lives together.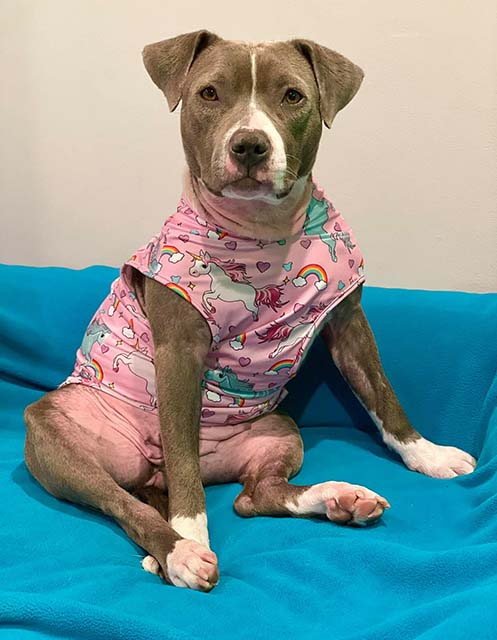 Third: Take lots of photos of the foster pets, and shelter pets, that show off their personalities and "help a potential adopter visualize that dog in their home and as part of their family," says Bailey. 
"We are so lucky here at BARCS to have an amazing volunteer and foster base who know that good photos are the key to 'love at first sight' which is our greatest tool to saving thousands of lives each year."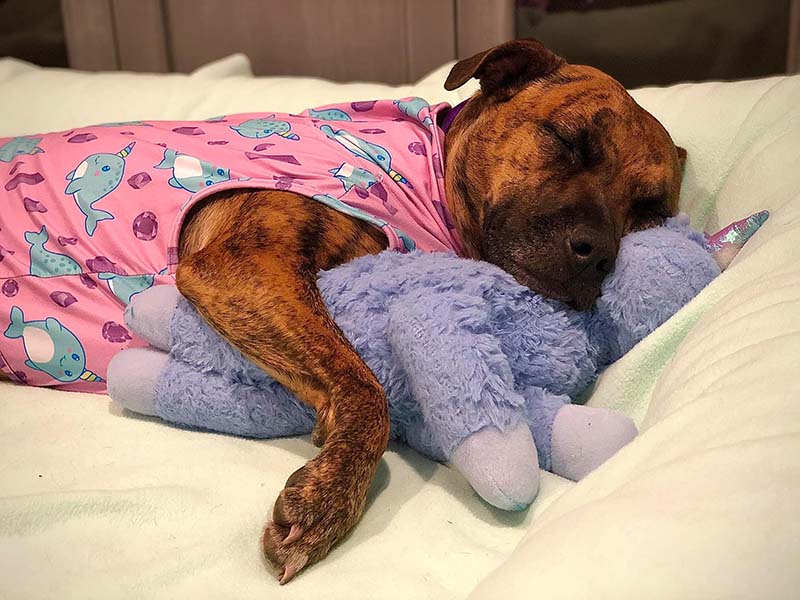 Fourth​​—this tip is from Kathryn, for fosters: Take it slow with the PJs, and let the dogs set the pace. "I recommend building up some trust and positive experiences before even trying to dress up a dog, and then be armed with lots of yummy treats once they are actually on," she says. 
"Treat every new foster dog as an individual, always read the dog's body language, and never try to force a dog into something they aren't comfortable with yet."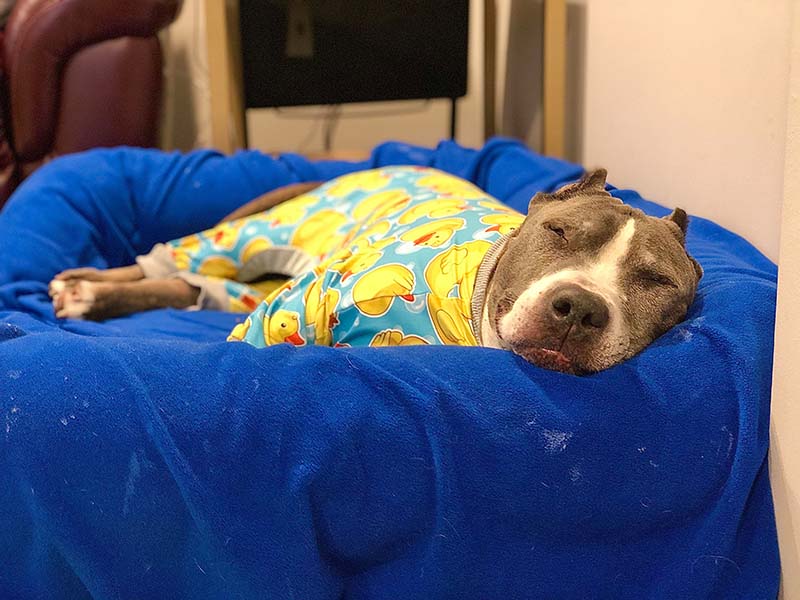 Finally, The PJs are mostly purchased from a company called Tooth and Honey, which specializes in making clothing for big dogs. The company has also donated some clothes directly to BARCS.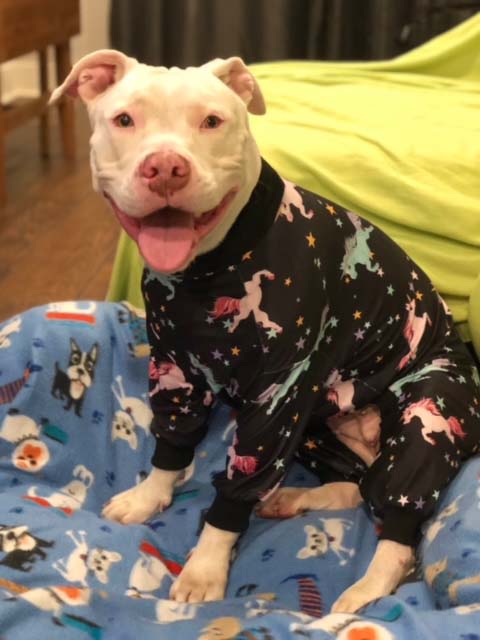 They have a donation request form on their website for other shelters and rescues to put in requests.
"We have fulfilled hundreds of donation requests since we have started," Tooth and Honey founder Ally Concannon tells us. "We mainly support shelters and rescues that have a focus on helping pit bull-type dogs."
And finally, for real this time, we can't leave without telling you the story of Donatella and how a set of pajamas changed her life.
The dog arrived at BARCS in 2019, fearful and caked in dirt, feces, and blood. She was fearful and reactive, but Kathryn saw a "spark of promise," and asked to foster her for a few days.
"I took her home, and gave her a bath to get the worst of the filth off her," Kathryn says. "She was afraid but tolerant, and settled in under a warm blanket after her bath that first night, and gave me the tiniest of baby tail wags."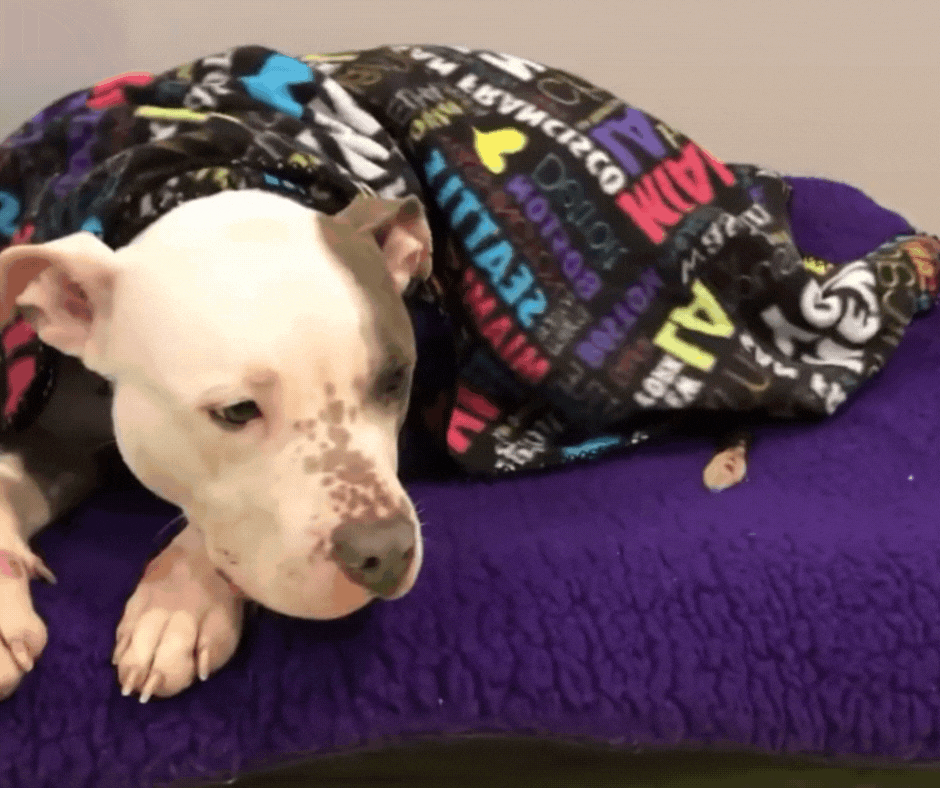 Donatella quickly built enough trust with Kathryn that she could be dressed up for warmth (and cuteness), "even allowing for an outfit change," Kathryn says. "She came out of her shell more and more during her stay—soliciting attention, playing, cuddling, and just being an overall amazing dog." 
After her sleepover was over, Kathryn kept visiting Donatella at the shelter. She took her out for day trips, of course wearing PJs and an "Adopt Me" vest.
Kathryn became Donatella's advocate, enlisting other volunteers to work with her, and build her reserve of trust, and marketing her to potential adopters and fosters.
It worked. Donatella moved into a long-term foster home, and from there she was adopted. 
Kathryn believes this dog's happy ending can be directly traced to that first sleepover, that first bath, that first little tail wag, those first pajamas.
Donatella got the space and positive experiences she so dearly needed to start to blossom. Kathryn got the opportunity to start getting to know Donatella as a loved dog in a home—and then to go to bat for her, so that's exactly what she'd get to be.
"It gives me so much joy working with the dogs that are fearful when they arrive. Being their bridge to a happier and more confident version of themselves is very rewarding," Kathryn says. "From my perspective, Donatella and I meeting each other sparked something in both of us."