With the holidays in full swing, it's fun to celebrate with our furry family members too. Here's a few ways to keep your pets safe while having fun with them during the Thanksgiving holiday!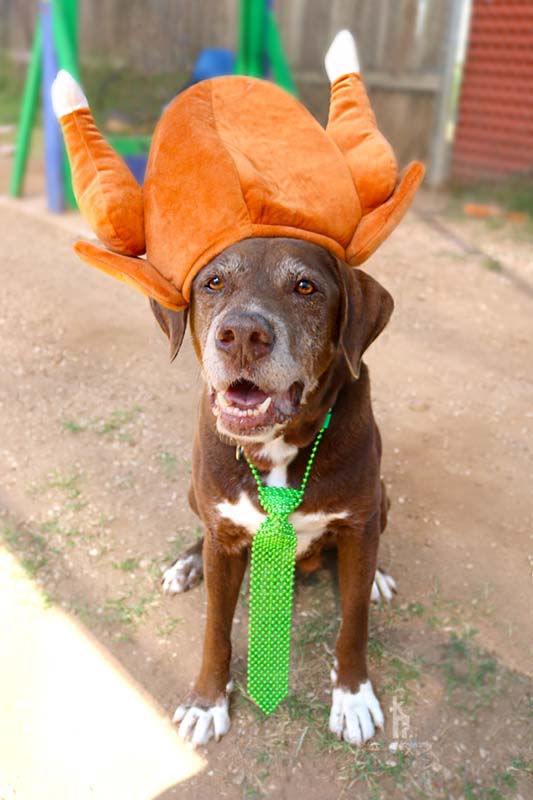 1. Treat your pets to a safe snack and avoid the bad ones.
Make sure your furry friends aren't able to get to unattended plates or overflowing trash cans during your holiday celebrations. With all the chaos of the holidays, it's a lot easier for pets to try to snag their own human dinner off the counter.
That being said, if you want to celebrate the holidays by giving your pet a treat, make sure you do so safely. Be sure to avoid the following foods! And, consider treating your pet with a special treat made for them, rather than your food.
Foods to Avoid
Sweets (gum, candy, baked goods, etc.) and especially nothing sweetened with xylitol or artificial sweeteners.
Fatty (gravy, turkey skin, etc.) or Spicy Foods
Alcohol –  Be sure to keep those cocktails out of reach!
Bones (This includes turkey bones, ribs, etc.)
Avocado
Chocolate
Coffee
Caffeine
Grapes & Raisins
Macadamia Nuts
Onions
Garlic
Chives
Raw/Uncooked Meat or Eggs
Yeast Dough
Try making these healthy and simple pumpkin apple dog treats that are fun to make and safe for your pup!
2. Be cautious of your holiday decorations and plants.
If you've already started decorating for Christmas, be on the lookout for dangerous decorations like tinsel and poinsettias!
To start, make sure your Christmas tree is secure and ornaments aren't easily reached by pets. You don't want them ingesting ornaments, tinsel, or other small decor items. Making sure your pets can't get into water from the tree stand is also important because it may contain pesticides and bacteria.
Mistletoe, poinsettias and holly are common plants used in holiday decor. Make sure those are out of reach! They can cause nausea, vomiting, and diarrhea for your pets. Lilies should also be kept out of reach because several varieties of lilies can cause kidney failure in cats if ingested. You could also opt to use artificial plants rather than the real thing!
3. Keep gifts in a safe place.
Make sure your gifts are kept safely! You may consider storing them somewhere out of reach, rather than underneath the tree. This is especially important if they contain sweets or anything else that could be unsafe for your pets.
Also, be mindful of gifts when you don't know what's in them. You never know when family might send you chocolates wrapped up with all the other gifts, and dog noses can sniff out things we can't see
To keep pets entertained, try putting some toys they haven't played with in a while, into a gift bag with some treats and let them "open presents" with you!
4. Consider keeping your pet in a crate.
Keeping your pets crated during holiday gatherings could be a safer option. Some animals get anxious with a lot of people around, and you don't want them accidentally slipping out the door with people coming and going. This can also lessen the risk of your pets getting into food they shouldn't.
Your pet's safe at home this Thanksgiving, but what should you do if you find someone else's pet who's gotten out? Read this blog.
5. Visit pets at the shelter who don't have families yet.
Animal shelters across the country are full of pets who are waiting for new families. Consider supporting your local shelter by volunteering and hanging out with some dogs and cats who need you. Fostering a pet over the holiday gives them a change of scenery and a break from the shelter environment. The shelter staff will learn more about what the pet is like in a home and maybe you or one of your holiday guests will fall in love and want to adopt them!
Those are our top five tips for keeping your pets safe during the holidays. Be sure to share this list with friends who have pets too!