Dallas Animal Services is one of the country's largest animal shelters, taking in tens of thousands of pets every year, and it hasn't always been easy to get good photos of all of them to use in adoption listings.
Mostly, the Texas shelter was stuck using those notoriously bad pictures taken when a pet first comes into a shelter—often blurry, obscuring key details of what the animals look like, and showing a pet who is (quite understandably) scared, stressed, and confused.
Some of these pictures are so unrepresentative, that even owners desperately searching for lost cats and dogs might not recognize their own pets.
Of course, shelter staff wanted to take better, more marketable and identifiable photos. But with this volume of intake, "individual staff members just could not keep up with the amount of pets we take in daily," says DAS spokesperson Leah Backo.
So two years ago, DAS set up its "Furtography" program. It's a two-tiered program that has volunteers taking the appealing, "come adopt me right now" pictures that would help get those tens of thousands of pets into loving homes and help lost pets be seen and identified by their owners.
Tier 1—Phone Furtographers—use their own phone to take pictures of dogs, cats, and other pets in their kennels, once they've been at DAS for two days. The Tier 1 volunteers don't handle the animals at all; their training is simple, quick, and efficient—consisting of just a training video and a written guide.
Tier 2 volunteers, known as VIP Furtographers, use phones or digital cameras. They do get trained to handle animals, and work mostly with DAS's longer-stay canine residents. This part of the program was developed in 2020, when pets' length of stay increased during the pandemic. 
These volunteers take dogs into the play yard for what Leah describes as "glamour shots."
"The goal of this tier is to show off a pet's personality and get those happy, smiling photos we love to see! Many of these volunteers will bring props like bandanas or special toys to photograph the pet with," she says. "Our Tier 2 VIP Furtographers really help us to get those photos that make pets shine!"
Furtographers from both tiers send their pictures to a dedicated email address, where shelter staff upload them to adoption listings and use them in social media posts. 
DAS has a Furtography shift available every day, "and while it isn't filled each time, the ultimate goal is to have at least 1 Phone and 1 VIP Furtographer booked for every day of the week," Leah says. "The regulars generally come twice a month."
Stephanie M. Casey is one such regular. She began volunteering as a Furtographer, after adopting a dog from DAS two summers ago. (Sage, a mixed breed pup, who joined rescue kitties Viktor Vetiver, Avocado Jalapeño, and Petal to The Metal.)
Stephanie started taking Tier 1 photos. She then got some animal handling training, and moved on to Tier 2, "and I was outside with the dogs all the time when they're having fun and smiling and in the sun," she says.
Stephanie now tries to volunteer at least once a week, for a couple of hours at a time (she does a mix of taking pictures, cleaning kennels, arranging meet and greets for visitors, and more).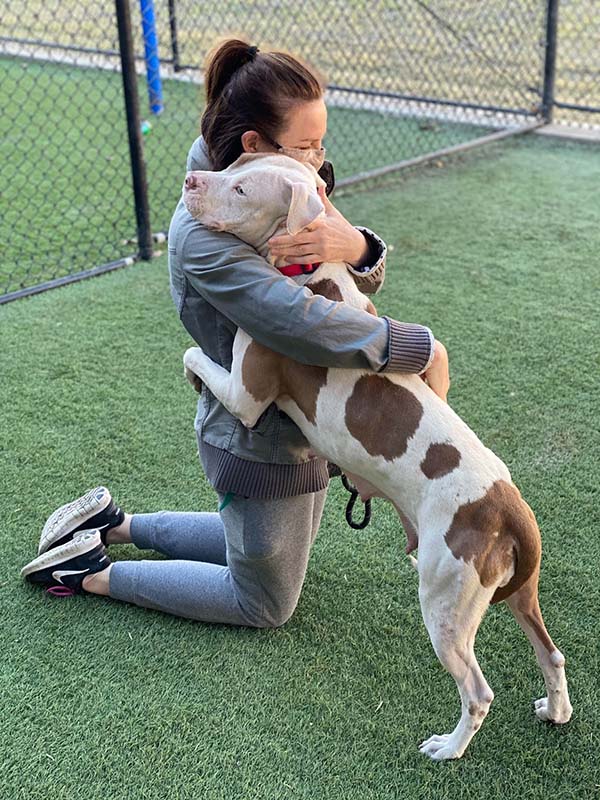 Most photo sessions are about 10 or 15 minutes long. Stephanie doesn't use many costumes, but does sometimes deploy a bandana to dress a dog up. She lets the pets set the tone for the session. 
Some want to play. "Sometimes they just want love and hugs and aren't as interested in playing," she says. "Some of them want to be groomed." 
Stephanie takes special pride—as she should!—in capturing the pets' personalities in her pictures (which she also shares on her own totally delightful Instagram: dallaslovebugs), whether they've happy, joyful, goofy, or even "when they're just sort of a shy sweet thing." 
The idea is to show who these animals really are, to help potential adopters find the pet who will best fit in with their home and family. 
With results! Leah says that not only do these photos help get more pets into adoptive homes, "but I believe this program also contributes to our high return to owner rates. Sometimes intake photos just aren't conducive to showing off a pet, even for a clear identification, let alone showing off their personality."
How high are the return rates? Well above average for dogs, and just above for cats. In the past year—DAS stats run from October 2020-September 2021—of the 8,007 lost dogs entering DAS, 3,160 have been returned to their owners. For cats, the numbers are less robust: of 2,896 lost cats, 89 got home. To put these figures in perspective, the national average is just 15-20 percent for dogs, and only 2 percent for cats.
Check out HASS's Lost Pet Reunification toolkit to help get more lost pets home to their families.
Should other shelters steal this idea? Leah gives a resounding heck yes—and shares some tips:
Have a system: While it's not always perfect, having structure to both tiers of the program really helps to keep things streamlined and organized—especially given the volume of pets and pet photos that DAS deals with on a day-to-day basis.

We created an entire inbox for volunteers to email in their photos so that multiple staff could work on uploading them at the same time. We also make sure volunteers know to send us photos through email with the pet ID number as the subject line so these emails are searchable later on. We've even developed reports specifically for this program that we can pull to show volunteers which pets need photos.

Without these systems in place, this program truly would not be possible.
Make sure there are clear expectations of what you're looking for and what types of photos you can/can't use: DAS utilizes Chameleon as our software which requires horizontal photos (4:3 dimensions) so we make that very clear throughout our training process.

We also emphasize that even though volunteers are not permitted to open kennel doors during Tier 1 Phone Furtography shifts, there should NOT be bars in their photos. They should be shooting through the bars of the kennels to get a pet photo.
Use resources and share those resources with your volunteers! We love HeartsSpeak at DAS and utilize a lot of their resources. We've based a lot of our guides and materials off of some of the ones that HeartsSpeak put together and we are always sharing their tips and tricks with our volunteers.
Give your volunteers KUDOS! We often highlight great pet photos a Furtographer has taken in our volunteer Facebook group and often utilize their photos on the main pages of our social media to make sure they know that we truly value their work!
Leah ends with this final note, for anyone in the Dallas area: "WE NEED FURTOGRAPHERS! We're definitely still working on growing this program. If anyone is interested and in the DFW area, we are currently looking at recruiting Furtographers for both tiers of this program! Please reach out to DASPIO@dallascityhall.com if you're interested in learning more!"
We are looking for more Steal this Idea ideas! Does your shelter have a super creative program to help your pets get into homes? Are you implementing the HASS Elements in an innovative way other shelters could learn from? Reach out and tell us about it!