It was the end of the summer, and—this may sound familiar—Kauai Humane Society, an open-admission shelter in Hawaii, found themselves over capacity.
"We had to get creative and bold so we decided to look into chartering a plane. It was an idea we would discuss or joke about every couple months, but this time it stuck," says executive director Nicole Schafer.
Being on an island, driving the cats and dogs elsewhere wasn't an option. The original idea was to fly pets to the mainland and place them with transfer partners. But—this might sound familiar, too—it's been such a busy summer that transfer partners were hard to come by.
So instead, Nicole and her staff decided to put out word that they'd be flying into Seattle, and interested parties could put in an application online, then come to the tarmac and pick up a pet right off the plane. The operation was dubbed Mission Mainland.
Between some clicky social media posts and a very enthusiastic Seattle media response, "we had to stop taking applications after only four days," Nicole says.
Another 150 people wanted to adopt, but there just wasn't enough room on the plane. (The staff had practiced placing crates on a mock-up of the jet's interior—crates were strapped to seats, the jet's pull-out bed, and tucked into a spare room behind the bathroom—to ensure they had a safe ride.)
On August 29, shelter staff loaded 181 cats and 20 dogs into a passenger jet—and the animals, plus four shelter staff, flew five hours to Seattle.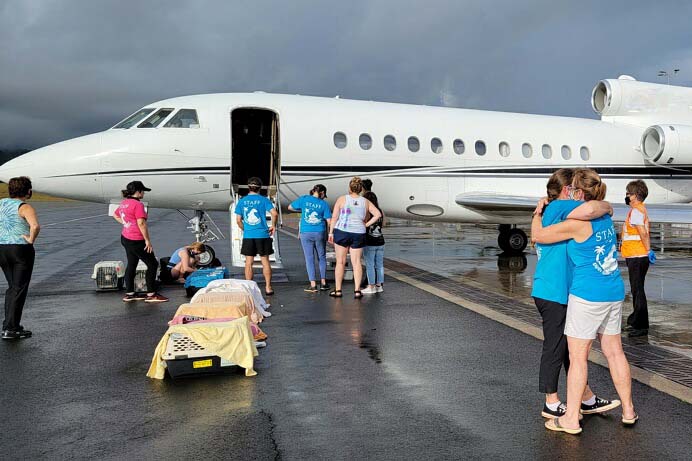 You might wonder how a couple hundred shelter pets would react to traveling by jet. The answer is quite well!
Nicole posits that the gentle white noise associated with flying on a private jet helped all the animals sleep through most of their adventure (though the last half-hour got a little smelly when the cats woke up to use their litter boxes).
Plus, she says, shelter staff sprayed "calming scents" to help keep stress levels down. Lavender and Feliway, to be specific. Sounds nice—are you listening, Southwest?
In Seattle, 75 cats and three dogs were picked up by their new owners. (In case you're curious, KHS's usual adoption fees applied: $25 for seniors, $50 for adults, $150 for puppies, and $100 for kittens, who were adopted out with a two-for-one special.) The other pets were placed with nine rescue transfer partners.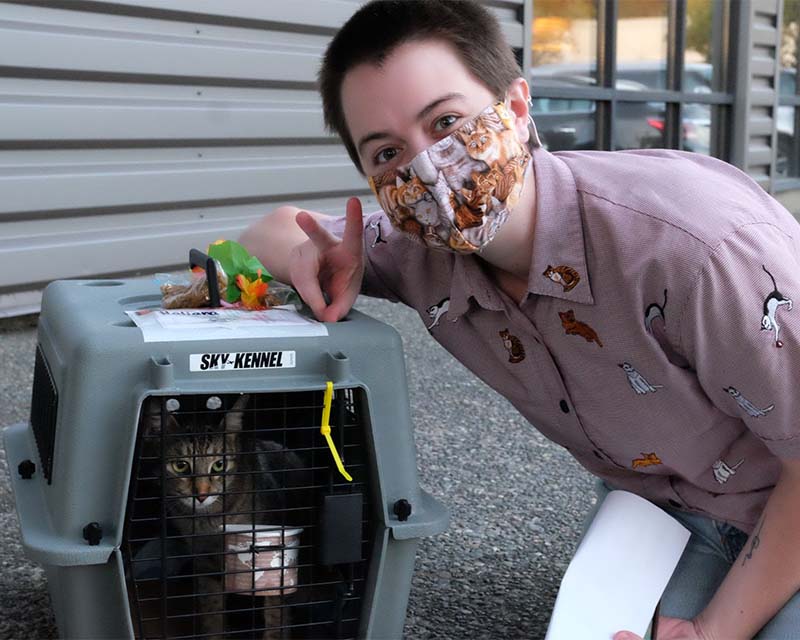 Those adopted at the airport included Alabama, a sweet kitten who lost both his eyes to infection. His new family brought a homemade welcome home sign and "got him a bubble backpack so he could smell Seattle," says KHS spokesperson Caitlin Fowlkes.
Even the one cat who was left unclaimed at the end of the event got a good home.
"Reaka had been adopted by a family in Seattle, but they never showed up and we couldn't get ahold of them. A kind young man who walked into the hangar, Finn, agreed to take her home," Caitlin says. That gave KHS time to call another family who'd put in an application, and they "were beyond ecstatic to take her home."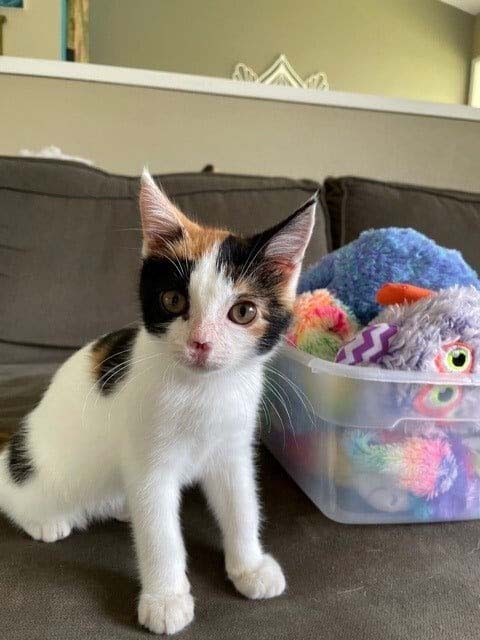 The event was an unqualified success. Staff and adopters were thrilled, and more than two hundred pets found great homes. Mission Mainland helped engage West Coast supporters, too, many of whom sent over donated supplies in advance of the flight. KHS is considering making this an annual if not biannual event.
What it didn't do, unfortunately, is permanently solve Kauai Humane Society's capacity issue.
"Our population is higher than it was before the flight. For us, it was a needed solution, but not a long lasting one," Nicole says. "We are packed."
The shelter is now asking for any mainland shelters or rescues that could take in some pets to get in touch. KHS will arrange the flights, and provide health documentation. They call this the A.L.O.H.A. Transfer Program, and more info is on the shelter's website.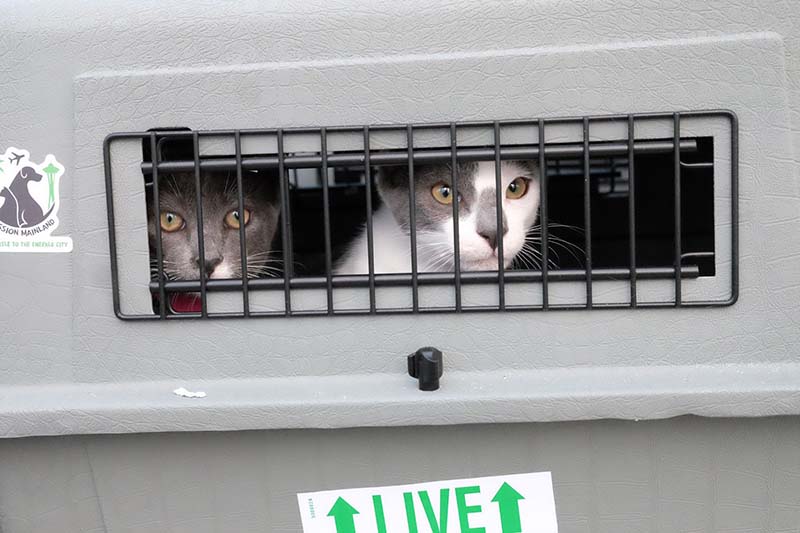 This goes for mainland-based adopters, too—if you see a special someone who's up for adoption, reach out. Here's where you can learn more about the off-island adoption program (tag line: Adopt a furry souvenir!).
As for whether something like Mission Mainland could work for other shelters—Nicole suggests that aspects could be replicable, though most shelters might prefer to use ground transportation, which is far cheaper, and generally easier to navigate.
When we say cheaper we mean cheaper. The jet cost $55,975. "We were going to fundraise for it, but we were not sure how long that was going to take so four board members put the funds together," Nicole says.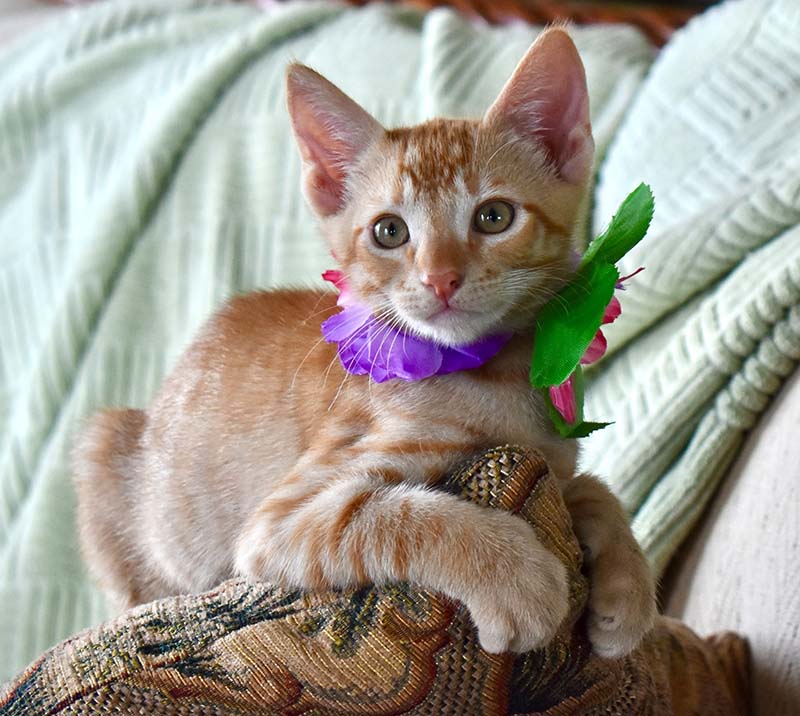 If you do want to try leaving on a jet plane, one way to keep costs down is to share. "I would suggest looking at partnering with a few shelters or rescues to help cover this cost, whether the transportation was by plane or by vehicle," Nicole advises.
What about for shelters that are sans plane? Nicole recommends taking a good look at your data to find out both where your adopters are from, and where there are people close by who aren't yet adopting from you in the numbers you'd expect or like. Then do a fun event in that area.
"Talk to pet supply stores or locations—maybe it is dog adoptions at a pumpkin patch—that are outside of your usual range and try an adoption event," she says.
Be creative. Be exciting. Be unexpected. Sky's the limit when it comes to dreaming up a thrilling event that matches up with your shelter's needs, resources, and location.
Be sure to alert the media, and use your own social media, so folks can get enthused with you and connect with, and adopt, your pets.
"Aim for novelty and remove as many adoption hurdles as possible," Nicole says. "The takeaway is that sometimes you have to go to the adopters and you have to let them know you are coming."
Does your shelter have a great adoption story? An innovative program or event to get more pets into great homes? What creative ways have you incorporated the HASS Elements into your shelter's work? Let us know!