We were recently in Arkansas, visiting our HASS pilot shelter Cabot Animal Support Services. 
HASS staff and I were there primarily to support CASS in their data collection, so they can do the good things they're doing even better — but I always learn from our pilots on these road show visits, which I told you about in my last Letter from the Director, and this was no exception.
This time, I got to be part of a large-scale, low-cost drive-thru vaccine clinic that Cabot holds twice a year, and that is the HASS mission in action.
When I say large-scale, I am not exaggerating — in fact, it might be an understatement. Around 1,800 shots were given to approximately 600 pets who might not otherwise see a veterinarian, are able to get their yearly shots at these twice-annual events. If the veterinarian notices something that requires further examinations or treatment, the pet owners can make a follow-up appointment while they're there.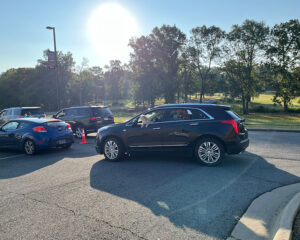 Similar to the drive-thru clinics that were launched during COVID, Cabot launched a similar methodology that have worked so well, Cabot's kept them going. It's a great example of seeing human welfare best practices implemented for pet support services to make a direct, positive impact in their community. These clinics create a veterinary relationship, fill an important gap in services, and, perhaps most importantly, meet people — and pets — just where they are.
That includes two carloads of Chihuahuas I had the pleasure to meet in the drive-thru line. They had the pleasure to bark at me more than any other pet that day! (I also met a pig, residing at the shelter while waiting to be adopted, who is perhaps the happiest animal I've ever encountered in a kennel, but I'll save that story for another day.)
It's not just us saying that it's important to keep people and pets together — this is what your community members value, too.
The much-awaited HASS Community Values Survey preliminary results are out, and they show that local governments and service agencies should focus their efforts in three main areas: pet ownership support, increased funding within animal welfare, and prioritizing keeping people and pets together. All priorities we're here to help you address, in the HASS Resource Center!
The survey, which was facilitated by the HASS Data and Research team, is the first step in learning about, sharing, and implementing what people in communities across the country care about when it comes to pets and people, and the role that animal organizations should play in communities.
Speaking of the brand new HASS Resource Center — have you checked out the totally FREE resources to help you keep people and pets together?
There is no supporting pets without supporting people — and the HASS mission is to bridge the resource gap between human and animal welfare industries. This mission is always important, and never more so than in times, like now, when people aren't being paid enough to pay basic living expenses and they are being evicted from their homes and need holistic support to be able to come out on the other side, together.
Rooted in four core pathways — Pet Support Services, Lost Pet Reunification, Supported Self-Rehoming, and Intake to Placement — the new HASS Resource Center includes FREE toolkits, guides, and programming roadmaps for industry professionals and animal welfare advocates to implement HASS in their communities and move closer toward a more unified system of support.
Check out the HASS Resource Center here!
And that's not all — we also have a new article series from the HASS Data and Research team, that you don't want to miss.
Our Data and Research team has spent over three years now improving and standardizing data collection at our pilot shelters — and then doing deep dives into what we can learn and put into action.
We are excited to share their findings in our new Data Insights article series! Here are the first two articles in this important series — they're about what the data teaches about microchips, and how we can use them even more effectively to reunite lost pets with their families:
We've got lots, lots, LOTS more coming — subscribe to our newsletter for updates, insights, puns aplenty, news about upcoming Job-Alikes and webinars, and perhaps even the occasional pig photo!
With peace, purpose, and community — until next time,
Vincent Medley, Maddie's® Director of Human Animal Support Services