Steal This Idea is a new series in which we bring you creative ways that animal shelters and rescue groups are incorporating the HASS Elements into their work. We'll tell you about these innovative, interesting, effective programs and practices—that you can try at your organization, too!
Today's Steal This Idea comes from LifeLine Animal Project, a HASS pilot shelter in Atlanta, Georgia.
We spoke with Chief Marketing Officer Heather Friedman about LifeLine's highly replicable Nextdoor Ambassador program—a 3.5-year-old initiative through which members of the community help spread the word on the Nextdoor platform about things the shelter wants folks getting involved with: events, new fostering initiatives, the need for donations, and more.
Our Q&A with Heather is below—and if you have a Steal This Idea idea to share, please reach out here! We really want to hear about how your organization is saving pets, serving your community, and incorporating the HASS Elements in amazing ways that others can learn from and use.
Heather also shared some incredibly cute photos of goats in pajamas, which are posted at the bottom of this page. Aw, no forget it, who can wait that long—we'll put them right here: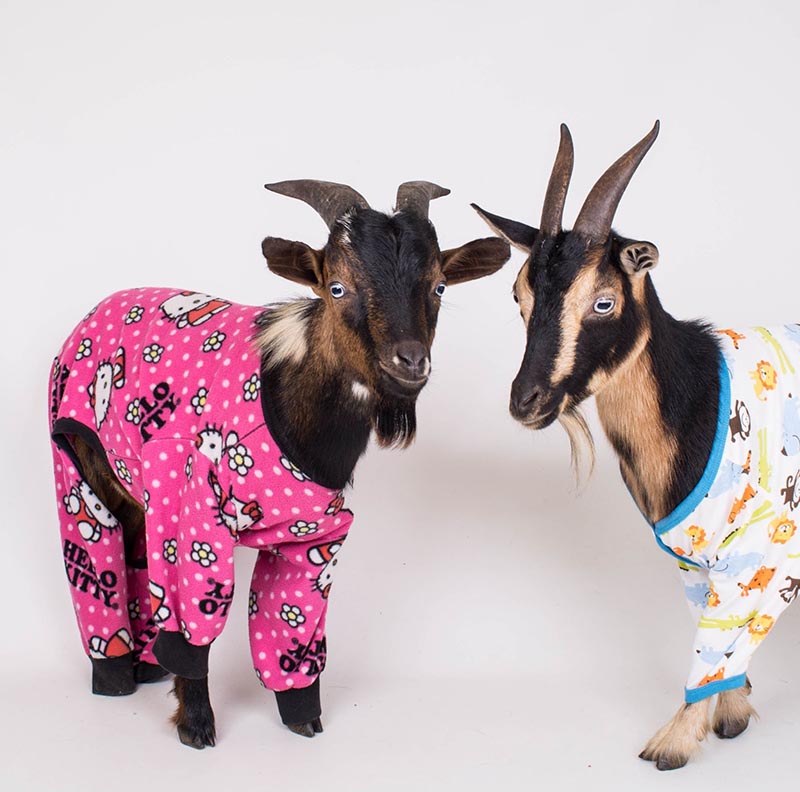 How did you come up with the idea for Nextdoor Ambassadors?
The idea first came to me in 2016 when we were looking for creative ways to help get critical messages out to our community. We wanted to leverage the power of neighborhood support, especially around the Nextdoor.com platform, and spread the word about lifesaving adoption events, sleepover programs, foster needs, and more.
Since we already had such an amazing army of volunteers willing to help animals in whatever ways possible, we decided to reach out and ask them if they would like to become our Nextdoor Ambassador Army. We created an easy online sign-up form and posted it on our Volunteer Group Facebook page, and within a day we had over 20 volunteers and staff members sign up. 
About how many ambassadors do you have? Are they operating in neighborhoods all across Atlanta?
We have around 40 ambassadors that cover over 5 counties and 50 neighborhoods in Atlanta.
Are you finding that the program is working?
Yes! We definitely see a lot of LifeLine's messages being delivered in community discussions. We also hear a lot of feedback about seeing promotions shared on Nextdoor.
Does it take a lot of work from the shelter's end, to make this program successful?
No, it's just another step in the marketing planning and campaign process now.
We are already pulling content together to share on social media, so we leverage our content to draft an email with all of the components needed to post on Nextdoor.com. Editor's note: see a sample email below.
We also make it super easy for our volunteers to participate. All we need to do is send one email with all the details: a suggested category, subject, body copy/message, links/urls, and an eye-catching image or two, and our volunteers post away in their neighborhoods!
On the backend, we track which volunteers we send each campaign to, so that we can rotate the requests among volunteers living in the same area. That way we don't worry about taxing our volunteers too often.
Do you think this idea could work for other shelters? What tips would you give a shelter looking to start a program like this of their own?
A Nextdoor Ambassador Army is an easy way to engage volunteers and animal lovers in your community. And the best part is that they don't even have to leave their home to help.
Make it super easy to sign up to become an ambassador. We used a Google Form. 
Provide ambassadors with everything they need to help in one concise and clear email. 
Provide a few good images to choose from (so the posts vary).
Make sure your image sizes are optimized to display correctly – currently we send 500×280 images.
Let them know you are grateful for their support!
Reach out to your volunteers, staff, and adopters at least once a year to recruit new ambassadors.
What else would you like me to know?
We are currently working on the next iteration of content to share with our Nextdoor Ambassadors. This content includes a list of the most frequently asked questions we see on Nextdoor, our responses to each question, and helpful links and resources that the community can share.
We will cover everything from adoptions, safety net fostering, affordable veterinary care to Trap-Neuter-Return and help for lost pets. We hope to send this out later this summer!
---
Sample Email:

Hello Nextdoor Ambassador,

We have a fun foster event coming up for Thanksgiving week, and we could some help getting the word out there about our Home for the Pawlidays program.

Here is the messaging and attached are some adorable photos:

*******

50 lucky pups want to find a Thanksgiving dinner to crash. Give shelter pups a reason to be thankful by opening up your home for just seven days during the Thanksgiving holiday! LifeLine will provide the pet supplies, vet care and support – you just provide the love! Learn more or sign up here>>> LifeLineAnimal.org/home-for-the-pawlidays 

Can't foster? You can send the shelters some much needed supplies like leashes, martingale collars and crates from their Amazon charity wishlists.

Thanks for supporting Atlanta's homeless animals this holiday season.

********************************************************************************

Thanks, Ambassadors for all you do. Here was the result of all the postings on Nextdoor about our need for canned food. We are so grateful for your help! [insert photos]