We are a nation of pet lovers. Ninety-eight percent of pet owners say pets are important members of their family. An estimated 70% of Americans own one or more pets.
A recent study even found that many people will even delay needed medical care because they have nowhere safe for their animals to stay while they are hospitalized.
But when someone has trouble caring for a pet—they've lost their job or their home, or are struggling to pay for pet food or vet care—walking into the average animal shelter, that person has two options: permanently relinquish the pet to be considered for adoption or sign them over to be euthanized.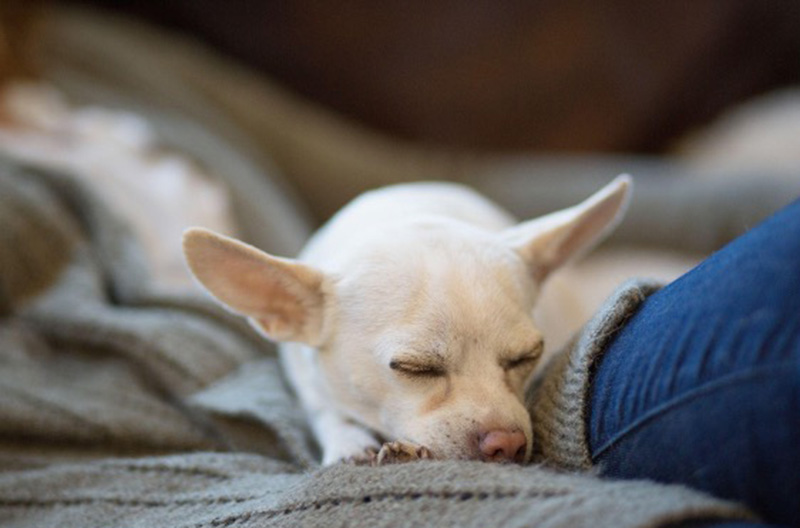 Some 6.3 million cats and dogs enter U.S. shelters every year—about a quarter of whom are "owner surrenders," pets given over to shelters by their owners, often because of the loss of housing or a job.

In their hardest moments, people are forced to give up the pets who bring them comfort, joy, and companionship—and do it knowing the risk their animals may not survive. This shelter system that separates people from their pets—impounding animals with owners who want to and could keep them, with some support—is as cruel as it is wasteful and unnecessary.

We can and must stop the needless separation of people and pets by radically reshaping the role of taxpayer-funded animal welfare organizations in three key ways.

First, send "the pound" system to the dump.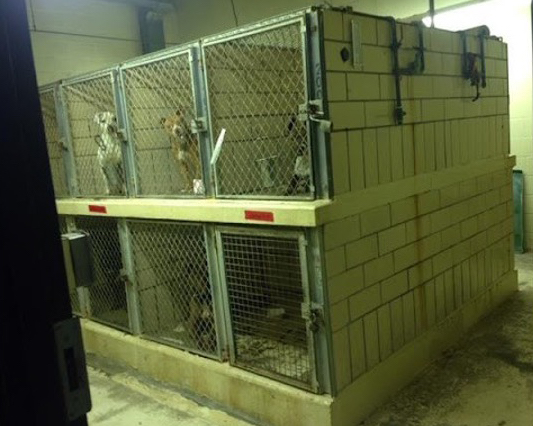 Today's shelters are for the most part, more compassionate institutions than the "pounds" of recent past. Instead of simply collecting and killing loose and unwanted animals, shelters today are dedicated to adoptions, transfer to rescue partners, and returning lost pets to their owners.
These improvements are seen in annual "save rates." Today, about 920,000 cats and dogs lose their lives in U.S. shelters every year. As late as the mid-1980s, an estimated 17 million animals were still dying each year in government-run pounds.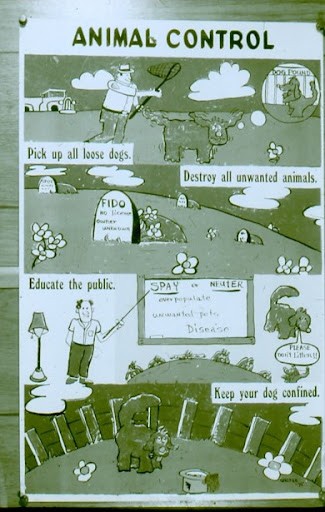 Though they've improved, today's animal shelters still stand firmly on the foundation they were built upon: rounding up, confining, and ending the lives of a community's animals. Even now, most shelters permanently and completely remove pets from their homes and communities in order to help them. Many of these shelters are still based in the old "pound" buildings, which were never designed to house animals for any length of time.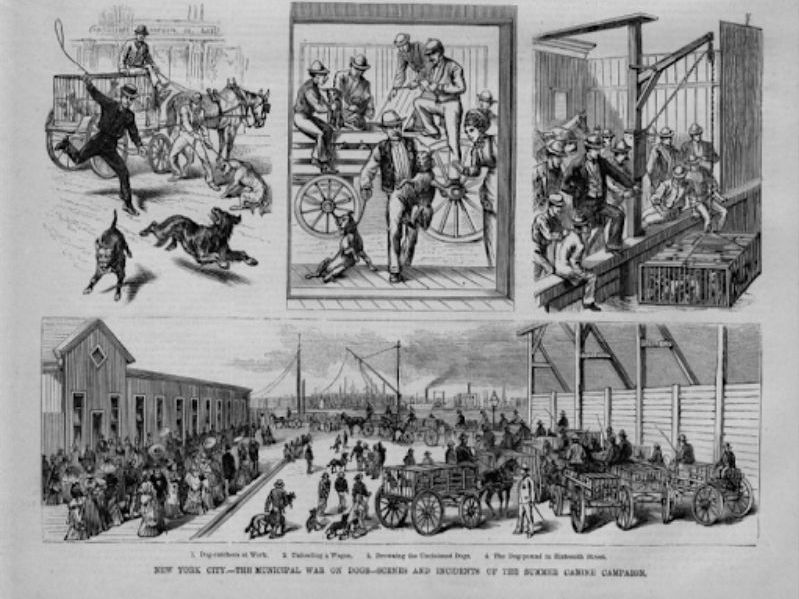 The harm to families is obvious. Pets are hurt as well, confined in stressful, loud environments where their mental and physical wellbeing quickly deteriorate, putting them at risk of euthanasia.
Taxpayers are footing the bill for housing, feeding, and even euthanizing animals who should have never been in the shelter in the first place.

Animal services should instead adopt the humane and cost-effective Human Animal Support Services model—prioritizing supportive services that keep human-animal families together and pets out of shelters.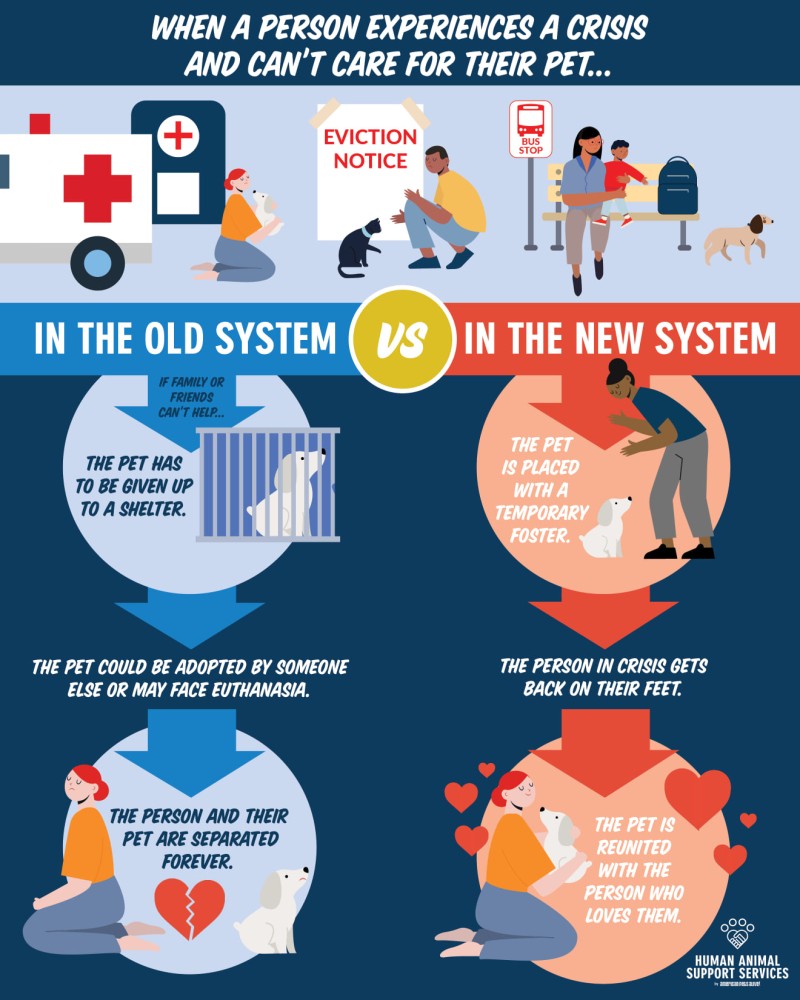 Instead of removing animals from their homes, animal agencies work with families to keep their pets, by providing veterinary care, behavioral support, temporary foster homes for those in crisis, pet food and supplies, and more.
This model preserves and honors the human-animal bond, and does not waste taxpayer dollars by tearing families apart and putting animals at risk.
Second, we need to collectively address the housing issues that lead to animals entering shelters.
Right now, our nation is facing a housing crisis. Across the country, cities are sorely lacking affordable, pet inclusive housing, which leads to animals entering shelters.
A recent Pet Inclusive Housing Initiative Report found 76% of rental properties say their rentals are pet friendly but only 8% are free of costly pet fees or restrictive policies such as weight limits. People living in low income neighborhoods are disproportionately affected by these pet fees and other restrictions.
Asking people to choose between safe housing and keeping their pets is not in line with the value pet owners put on the love between them and their animals.
Finally, we must embrace and invest in tools that get lost pets home, without those pets entering the shelter system.
Roughly half of the pets who enter shelters come in as stray, and many of these are in fact lost family pets. Those kept in the neighborhood where they're found are more likely to make it home to their families—that is because most of those pets are less than a mile from their home.
Thanks to new technologies, lost pets no longer need to be brought to a shelter if they are healthy and friendly, and with a little help from the pet finder, can be returned home within minutes or hours of getting lost.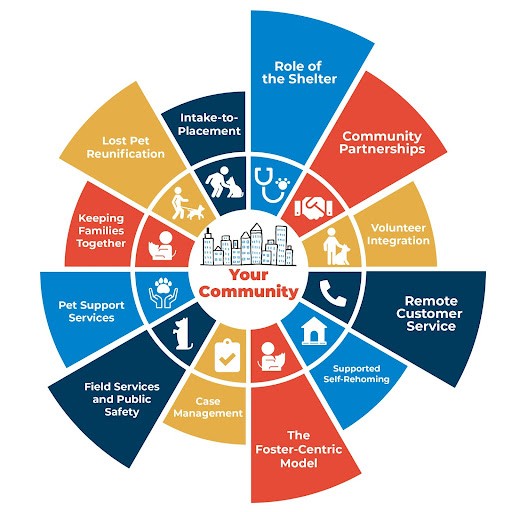 There is still a role for physical animal shelters. Reimagined as physically smaller and located in multiple neighborhoods, shelters of the future will house only sick or dangerous animals, and those who truly have no place else to go. That is not most pets entering shelters today.
At this pivotal moment, when so many of us rely on the love and companionship of pets to get through the day, we must envision and rapidly realize a new system of human animal support services that aligns with our collective values.
The pets so many of us live with are family members, not property. Taxpayer-funded animal shelters must be transformed to support families and to keep pets and people together, even in tough times.
Learn more about the Human Animal Support Services project on our website and social media. Here's where you can learn more about joining the HASS project. We hope you will become part of this collaborative movement to transform animal services, and engage in partnerships that support the bond of people and animals..